Human milk fortification strategies for improved in-hospital growth of preterm infants
Johanna Elizabeth Kemp

University of Pretoria

Friede AM Wenhold

University of Pretoria
Keywords:
human milk, fortification, preterm infant
Abstract
Human milk is the preferred feed for preterm infants, yet it may need to be fortified for optimal growth and development. Standard fortification of human milk seldom meets the recommended intake of protein, leading to inadequate post-natal growth. This article aims to critically review different human milk fortification strategies with a focus on in-hospital growth of premature infants in resource-limited settings. Super, adjustable and target fortification are compared to standard fortification. Different growth outcome parameters limit comparability of findings, but super fortification and adjustable fortification present opportunities to explore. More uniform growth outcome assessment is recommended. Practical implementation and cost-effectiveness in the local setting need to be investigated. (Full text available online at
www.medpharm.tandfonline.com/ojcn
) South Afr J Clin Nutr 2016;
DOI: 10.1080/16070658.2016.1217646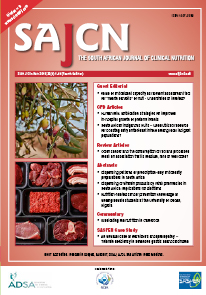 How to Cite
Kemp, J., & Wenhold, F. (2016). Human milk fortification strategies for improved in-hospital growth of preterm infants. South African Journal of Clinical Nutrition, 29(4), 7-14. Retrieved from http://sajcn.co.za/index.php/SAJCN/article/view/1092
Material submitted for publication in the South African Journal of Clinical Nutrition (SAJCN) is accepted provided it has not been published elsewhere. Copyright forms will be sent with acknowledgement of receipt and the SAJCN reserves copyright of the material published.
The SAJCN does not hold itself responsible for statements made by the authors.