NSSA newsbits
Editorial Office

Medpharm Publications
Abstract
The Eastern Branch of the Nutrition Society of South Africa (NSSA) was represented by Prof Carin Napier, NSSA council member, at a workshop that was hosted by the Department of Health (the national and KwaZulu-Natal provincial office) on 9 November 2015 at the South African Sugar Association in Mount Edgecombe. The national strategy for obesity prevention and the control of obesity in South Africa for 2015-2020, and the process used in its development, was presented by Mrs Lynn Moeng-Mahlangu, Department of Health at the workshop. Dr Leegail Adonis presented on best practice and high-impact strategies for the prevention and management of obesity, and provided an overview of programmes implemented in other countries in the fight against obesity. Ms Lenore Spies shared initiatives presented by the KwaZulu-Natal provincial office. Participants were asked to identify gaps in the national and provincial strategy during the second part of the workshop and to rate and rank the activities to be conducted under each goal of the strategy according to the order of priority. Information collated during the workshop will assist in the implementation of the activities under each goal.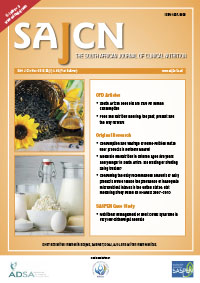 How to Cite
Office, E. (1). NSSA newsbits. South African Journal of Clinical Nutrition, 29(1), 48. Retrieved from http://sajcn.co.za/index.php/SAJCN/article/view/1096
Material submitted for publication in the South African Journal of Clinical Nutrition (SAJCN) is accepted provided it has not been published elsewhere. Copyright forms will be sent with acknowledgement of receipt and the SAJCN reserves copyright of the material published.
The SAJCN does not hold itself responsible for statements made by the authors.