SASPEN News
Editorial Office

Medpharm Publications
Abstract
Past presidents of SASPEN, Prof Demetre Labadarios, Prof Renee Blaauw and Mrs Janicke Visser, have been recognised by being awarded honorary membership to the society. This is a small token of appreciation for their tremendous work in establishing SASPEN, and their dedication to advancing the stance of the dietetic profession in South Africa. SASPEN is privileged to have you as members.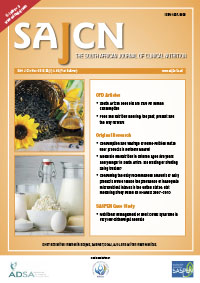 How to Cite
Office, E. (1). SASPEN News. South African Journal of Clinical Nutrition, 29(1), 47. Retrieved from http://sajcn.co.za/index.php/SAJCN/article/view/1097
Material submitted for publication in the South African Journal of Clinical Nutrition (SAJCN) is accepted provided it has not been published elsewhere. Copyright forms will be sent with acknowledgement of receipt and the SAJCN reserves copyright of the material published.
The SAJCN does not hold itself responsible for statements made by the authors.