Perspectives on the use of seed oils in the South African diet
Cornelius M Smuts

North-West University

Linda Malan

North-West University
Keywords:
perspectives, seed oils, South African Diet
Abstract
The debate and the evidence in the literature on the importance of the type of fat in the diet continues to elicit interest, and hopefully better understanding. Opperman et al1 addressed the suggestion made in The Real Meal Revolution2 that seed oils are toxic, high in trans fat and genetically modified in this issue of the SAJCN. The authors concluded in their findings that South African seed oils, i.e. sunflower oil, olive oil and canola oil are of good quality and safe for human consumption, based on their fatty acid composition, i.e. trans-fatty acid content, peroxide and conjugated diene levels. They further concluded that oil crops are not genetically modified.1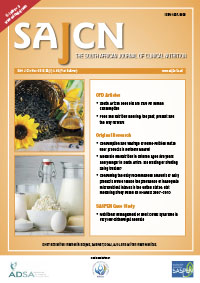 How to Cite
Smuts, C., & Malan, L. (1). Perspectives on the use of seed oils in the South African diet. South African Journal of Clinical Nutrition, 29(1), 4-6. Retrieved from http://sajcn.co.za/index.php/SAJCN/article/view/1098
Material submitted for publication in the South African Journal of Clinical Nutrition (SAJCN) is accepted provided it has not been published elsewhere. Copyright forms will be sent with acknowledgement of receipt and the SAJCN reserves copyright of the material published.
The SAJCN does not hold itself responsible for statements made by the authors.