Eradicating malnutrition in Cameroon
Ndenkeh Nforbewing Jackson Jr

University of Dschang

Cumber Nambile Samuel

University of KwaZulu-Natal
Keywords:
Malnutrition, Food security, Socio-economic status
Abstract
Despite the numerous interventions for the amelioration of socio-economic status and food security in Africa, the output still does not show any significant effect, leaving people to wonder if it will ever be possible to eradicate poverty and malnutrition in that part of the world. Malnutrition can effectively be eradicated but it will all depend on the strategies put in place as well as the monitoring systems, coordination and resources available for their proper functioning. In Cameroon, the situation keeps deteriorating with an estimated 229 000 cases of malnourished children (34% being severe cases) noted at the start of 2015, compared to 186 000 cases noted in 2014 (29% being severe cases). It was also noted that 8 out of 10 cases of malnutrition came from the North and Far North regions of Cameroon with more than half of the remainder coming from the East region of the country.
1
(Full text available online at
www.medpharm.tandfonline.com/ojcn
) South Afr J Clin Nutr 2016;
DOI: 10.1080/16070658.2016.1217649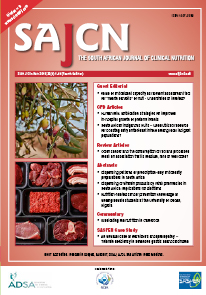 How to Cite
Jackson Jr, N., & Samuel, C. (2016). Eradicating malnutrition in Cameroon. South African Journal of Clinical Nutrition, 29(4), 31-32. Retrieved from http://sajcn.co.za/index.php/SAJCN/article/view/1104
Section
Editorials, Opinions, Issues in the field of Nutrition
Material submitted for publication in the South African Journal of Clinical Nutrition (SAJCN) is accepted provided it has not been published elsewhere. Copyright forms will be sent with acknowledgement of receipt and the SAJCN reserves copyright of the material published.
The SAJCN does not hold itself responsible for statements made by the authors.