Attributes contributing to the development of professionalism as described by dietetics students
Nico Nortje

University of the Western Cape
Keywords:
attributes, ethics education, healthcare education, professionalism, undergraduate medical students
Abstract
Internationally there is a renewed interest in professionalism and how to cultivate this among students. This study identifies and discusses the main attributes students view as important to develop professionalism. It is postulated that some important additions should be made to ethics programmes in order to enhance professionalism with students. (Full text available online at
www.medpharm.tandfonline.com/ojcn
) South Afr J Clin Nutr 2017;
DOI: 10.1080/16070658.2016.1225367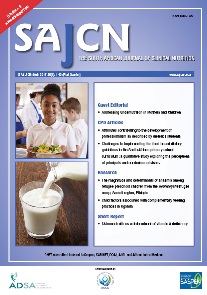 How to Cite
Nortje, N. (2017). Attributes contributing to the development of professionalism as described by dietetics students. South African Journal of Clinical Nutrition, 30(1), 6-8. Retrieved from http://sajcn.co.za/index.php/SAJCN/article/view/1115
Section
Original Research
Material submitted for publication in the South African Journal of Clinical Nutrition (SAJCN) is accepted provided it has not been published elsewhere. Copyright forms will be sent with acknowledgement of receipt and the SAJCN reserves copyright of the material published.
The SAJCN does not hold itself responsible for statements made by the authors.