Joint Statement on Low Carbohydrate Diets for Health and Weight Loss
Editorial Office

Medpharm Publications
Abstract
Any diet recommended for the short or long term should be nutritionally sound, not harmful to health or the environment, practical, affordable, and suit the individual's taste preferences and psychosocial environment. The current available evidence does not support an extreme low carbohydrate diet for reducing risk of disease. Low carbohydrate diets may enable some people to lose weight by reducing their energy intake and achieving an energy deficit. However, achieving a nutritionally adequate and healthy dietary pattern becomes problematic with extreme low carbohydrate diets that emphasise high fat intake from predominantly animal foods and restrict and eliminate many nutrient- and fibre-rich foods. The commercialisation of low carbohydrate diets is substantial and consequently many versions of this diet continue to be sold.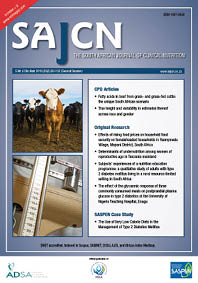 How to Cite
Office, E. (1). Joint Statement on Low Carbohydrate Diets for Health and Weight Loss. South African Journal of Clinical Nutrition, 29(2), 103-107. Retrieved from http://sajcn.co.za/index.php/SAJCN/article/view/1125
Material submitted for publication in the South African Journal of Clinical Nutrition (SAJCN) is accepted provided it has not been published elsewhere. Copyright forms will be sent with acknowledgement of receipt and the SAJCN reserves copyright of the material published.
The SAJCN does not hold itself responsible for statements made by the authors.