Skimmed milk as a determinant of vitamin A deficiency
Colin Musara

University of Zimbabwe

Mudavanhu Nyagura

University of Zimbabwe
Keywords:
recommended dietary allowance, skimmed milk, vitamin A, whole milk
Abstract
Objective:
To compare the levels of vitamin A in ultra-high temperature treated (UHT) whole milk (3.5% fat) and UHT skimmed milk (0.5% fat) using UV-visible light spectrophotometry and to compare the contribution of whole milk and skimmed milk to the recommended dietary allowance (RDA) for vitamin A.
Design:
Paired samples of liquid whole milk and liquid skimmed milk were used. Sampling and analysis were performed by different individuals to achieve a randomised blind design.
Outcome measures:
Thirty paired samples (n = 30) of whole milk and skimmed milk were evaluated for vitamin A content using UV-visible light spectrophotometry at 328 nm.
Results:
Absolute concentration of vitamin A was reduced from 208.830 ± 0.083 μg/L in whole milk to 35.855 ± 0.046 μg/L in skimmed milk. The 85.7% reduction in butterfat content from 3.5% in whole milk to 0.5% in skimmed milk was accompanied by an 82.824 ± 3.51% (mean ± SD) reduction in retinol content.
Conclusion:
The contribution of milk to the RDA for vitamin A was reduced from the standard 7.6% for whole milk to 1.30% for skimmed milk with 0.5% fat. The results emphasise the need for fortification of skimmed milk with vitamin A in order to augment the prevention of vitamin A deficiency diseases in developing countries. (Full text available online at
www.medpharm.tandfonline.com/ojcn
) South Afr J Clin Nutr 2017;
DOI: 10.1080/16070658.2017.1237454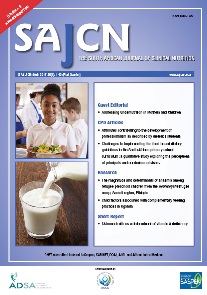 How to Cite
Musara, C., & Nyagura, M. (2017). Skimmed milk as a determinant of vitamin A deficiency. South African Journal of Clinical Nutrition, 30(1), 34-36. Retrieved from http://sajcn.co.za/index.php/SAJCN/article/view/1137
Section
Short Reports or Scientific Letters
Material submitted for publication in the South African Journal of Clinical Nutrition (SAJCN) is accepted provided it has not been published elsewhere. Copyright forms will be sent with acknowledgement of receipt and the SAJCN reserves copyright of the material published.
The SAJCN does not hold itself responsible for statements made by the authors.