NSSA Newsbits
Editorial Office

Medpharm Publications
Abstract
New legislation to reduce salt content in processed foods came into effect on 30 June 2016. The regulations relating to the reduction of sodium in certain food stuffs and related matters were published in the Government Gazette in March 2013. A three-year implementation period was granted to allow time for manufacturers to experiment with reformulation and produce lower salt products that are still acceptable to consumers. The legislation imposes maximum salt level targets for a basket of commonly consumed foods. Foods affected include bread, breakfast cereal, all fat and butter spreads, savoury snacks, potato crisps, processed meats and sausages, soup and gravy powders, instant noodles and stocks. Each of these food categories has an individual target to be achieved by 30 June 2016, and another stricter limit that needs to be met by 2019.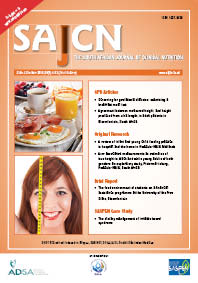 How to Cite
Office, E. (1). NSSA Newsbits. South African Journal of Clinical Nutrition, 29(3), 51. Retrieved from http://sajcn.co.za/index.php/SAJCN/article/view/1149
Material submitted for publication in the South African Journal of Clinical Nutrition (SAJCN) is accepted provided it has not been published elsewhere. Copyright forms will be sent with acknowledgement of receipt and the SAJCN reserves copyright of the material published.
The SAJCN does not hold itself responsible for statements made by the authors.