Editor's Note
Demetre Labadarios

Human Sciences Research Council (HSRC)
Abstract
The SAJCN archive back to 2004 has now been completed by the joint publishers of the SAJCN, Taylor and Francis (T&F) and MedPharm. The remainder archive is in the process of being transferred with, clearly, the aim of having it completed the soonest possible during the course of the year. SAJCN functionality has overall been maintained and the SAJCN can be accessed, in its new format via the Medpharm portal:
http://medpharm.tandfonline.com
.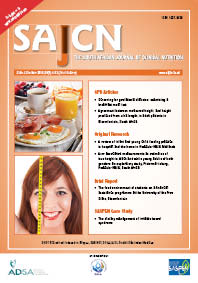 How to Cite
Labadarios, D. (1). Editor's Note. South African Journal of Clinical Nutrition, 29(3), 3. Retrieved from http://sajcn.co.za/index.php/SAJCN/article/view/1152
Material submitted for publication in the South African Journal of Clinical Nutrition (SAJCN) is accepted provided it has not been published elsewhere. Copyright forms will be sent with acknowledgement of receipt and the SAJCN reserves copyright of the material published.
The SAJCN does not hold itself responsible for statements made by the authors.