Energy drinks consumption among football players in Lagos, Nigeria
Foluke Adenike Olatona

University of Lagos

Ijeoma Olumide Aderibigbe

University of Lagos

Sunday Adedeji Aderibigbe

University of Ilorin

Temitope Wunmi Ladi-Akinyemi

University of Lagos
Keywords:
energy drinks, football players, Lagos, Nigeria, reasons for consumption
Abstract
Objectives:
This study assessed the prevalence, frequency and reasons for the consumption of energy drinks among members of registered football clubs in Lagos, Nigeria. A descriptive cross-sectional study design was employed and the study setting was Onikan Stadium Lagos, Lagos State, Nigeria. A simple random sampling technique was employed to select 350 members of the football clubs.
Method:
A pretested self-administered questionnaire was used to assess the prevalence, frequency and reasons for consumption of energy drinks. Epi Info® software (version 6.04) was used for data analysis.
Results:
Most of the respondents (76.3%) were energy-drink consumers but none of them was a daily user. Most of those who took it (71.9%) drank at least two cans a week. Power Horse™ was the most preferred choice (58.4%) and more than one-third (37.1%) mixed it with alcohol. The commonest reasons for using energy drinks were leisure (42%), performance enhancement (25.1%) and drinking with friends (25.1%). Single students between ages 21 and 30 years consumed energy drinks more than married, younger or older workers (
p
< 0.05).
Conclusions:
The majority of the football players were weekly energy-drink users and the commonest reason for consumption was leisure. Although it can be expected that football players consume energy drinks to enhance their sporting performance, it was of concern to find that one-third of the football players mixed energy drinks with alcohol. Education regarding the effects of energy-drink consumption and alcohol is needed among the football players in Lagos. (Full text available online at
www.medpharm.tandfonline.com/ojcn
) South Afr J Clin Nutr 2018;
DOI: 10.1080/16070658.2017.1406083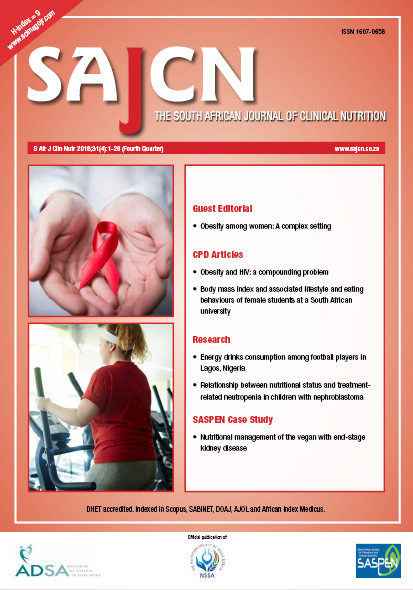 How to Cite
Olatona, F., Aderibigbe, I., Aderibigbe, S., & Ladi-Akinyemi, T. (2017). Energy drinks consumption among football players in Lagos, Nigeria. South African Journal of Clinical Nutrition, 31(4), 17. Retrieved from http://sajcn.co.za/index.php/SAJCN/article/view/1173
Section
Original Research
Material submitted for publication in the South African Journal of Clinical Nutrition (SAJCN) is accepted provided it has not been published elsewhere. Copyright forms will be sent with acknowledgement of receipt and the SAJCN reserves copyright of the material published.
The SAJCN does not hold itself responsible for statements made by the authors.