An unusual case of Wernicke's encephalopathy - Thiamin deficiency in advanced gastric adenocarcinoma
Nadia Jansen van Rensburg

Groote Schuur Hospital

J Plaskett

Groote Schuur Hospital
Keywords:
Wernicke's encephalopathy, thiamin deficiency, advanced gastric adenocarcinoma
Abstract
Wernicke's encephalopathy (WE) is a neurological syndrome most commonly found in patients suffering from alcohol abuse. It is less frequently diagnosed in non-alcoholic patients. In non-alcoholic patients WE might develop due to the exclusion of upper portions of the gastrointestinal tract (e.g. after gastrectomy, gastrojejunostomy, gastric bypass surgery) or secondary to intractable vomiting, inadequate dietary intake or malabsorption.1,2 Other described conditions in which WE may develop include HIV/AIDS, several types of malignancy (inoperable gastric cancer, leukaemia and lymphoma), prolonged periods of malnutrition (anorexia), hyperemesis gravidarum, thyroid conditions, post organ transplant as well as patients receiving dialysis and long-term dependency on parenteral nutrition (PN).1-3,4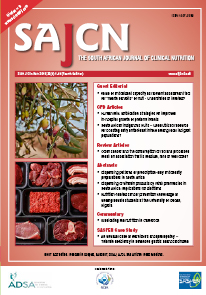 How to Cite
Jansen van Rensburg, N., & Plaskett, J. (1). An unusual case of Wernicke's encephalopathy - Thiamin deficiency in advanced gastric adenocarcinoma. South African Journal of Clinical Nutrition, 29(4), 33-37. Retrieved from http://sajcn.co.za/index.php/SAJCN/article/view/1191
Section
SASPEN Case Study
Material submitted for publication in the South African Journal of Clinical Nutrition (SAJCN) is accepted provided it has not been published elsewhere. Copyright forms will be sent with acknowledgement of receipt and the SAJCN reserves copyright of the material published.
The SAJCN does not hold itself responsible for statements made by the authors.