Hospital-acquired malnutrition in children at a tertiary care hospital
Sean Del-Rossi Quadros

Aga Khan University Hospital

Rose Kamenwa

Aga Khan University Hospital

Samuel Aketch

Aga Khan University Hospital

William Macharia

Aga Khan University Hospital
Keywords:
anthropometric measurements, Body Mass Index z-scores, hospital-acquired malnutrition, weight-for-height z-scores
Abstract
Objectives:
This study sought to investigate the incidence and factors associated with hospital-acquired malnutrition in children.
Design:
A hospital-based longitudinal survey carried out between December 2013 and February 2014.
Setting:
Aga Khan University Hospital, Nairobi, Kenya, a tertiary care hospital.
Subjects:
One hundred and seventy children who met the inclusion criteria were included in the study.
Outcome measures:
Anthropometry was done at admission and discharge. Incidence of hospital-acquired malnutrition was estimated from the total number of children showing a decrease in weight-for-height/length (WFH) or Body Mass Index (BMI) z-scores from the time of admission to discharge. Logistic regression analysis was performed to determine associations between selected variables and weight loss during hospitalisation.
Results:
Albeit a borderline level of significance, a decrease in calculated z-scores occurred in 60.6% (Confidence Interval (CI) 53.1–67.6%) of children during hospitalisation with a mean weight decrease of 0.5 kg (Standard Deviation (SD) ± 3.37,
p
= 0.055). Children ≤ 60 months of age demonstrated a mean decrease in weight-for-height/length z-score of 0.145 (SD ± 0.73,
p
= 0.042); and those > 60 months, a mean decrease in BMI z-score of 0.152 (SD ± 0.39,
p
= 0.004). The majority with weight loss had been admitted with a diagnosis of gastroenteritis (81.2%), gastritis (64.3%) and pneumonia (55.6%). Weight loss was associated with duration of admission: 3 - 5 days (Odds Ratio (OR) 2.43, CI 1.46–4.03), 5 - 7 days (OR 4.67, CI 1.34–16.24), and > 7 days (OR 2.75, CI 0.88–8.64); score test for trend of odds is OR 1.37 (95% CI 1.11–1.69,
p
= 0.003).
Conclusion:
This study found a high incidence of hospital-acquired malnutrition in children. The most affected were those with gastroenteritis, gastritis and pneumonia. Hospital-acquired malnutrition was associated with an increased duration of hospitalisation. (Full text available online at
www.medpharm.tandfonline.com/ojcn
) South Afr J Clin Nutr 2018;
DOI: 10.1080/16070658.2017.1322825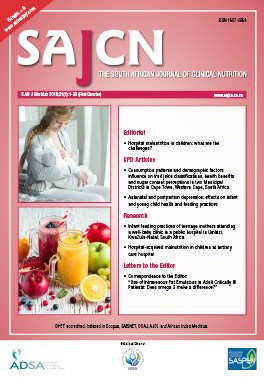 How to Cite
Quadros, S., Kamenwa, R., Aketch, S., & Macharia, W. (2018). Hospital-acquired malnutrition in children at a tertiary care hospital. South African Journal of Clinical Nutrition, 31(1), 24. Retrieved from http://sajcn.co.za/index.php/SAJCN/article/view/1195
Section
Original Research
Material submitted for publication in the South African Journal of Clinical Nutrition (SAJCN) is accepted provided it has not been published elsewhere. Copyright forms will be sent with acknowledgement of receipt and the SAJCN reserves copyright of the material published.
The SAJCN does not hold itself responsible for statements made by the authors.