SASPEN News
Editorial Office

Medpharm Publications
Abstract
SASPEN would like to wish all members well at the start of a new year! SASPEN is working hard behind the scenes planning various events for 2017. In SASPEN's previous news bulletins there have been alerts on the nutritionDay initiative. South Africa has never participated in this initiative. Getting nutritionDay off the ground in South Africa in 2017 is a major focus for SASPEN and ENASA. The first step would be to identify centres that would be interested in participating and to get ethics approval for participation. To learn more about nutritionDay please visit www.nutritionday.org. If you are interested in participating please contact a SASPEN representative. There will be further communication through our social media platforms for nutritionDay 2017.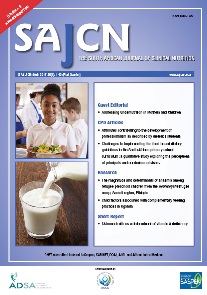 How to Cite
Office, E. (2017). SASPEN News. South African Journal of Clinical Nutrition, 30(1), 38. Retrieved from http://sajcn.co.za/index.php/SAJCN/article/view/1230
Material submitted for publication in the South African Journal of Clinical Nutrition (SAJCN) is accepted provided it has not been published elsewhere. Copyright forms will be sent with acknowledgement of receipt and the SAJCN reserves copyright of the material published.
The SAJCN does not hold itself responsible for statements made by the authors.