Editor's note
Demetre Labadarios

Human Sciences Research Council (HSRC)
Abstract
With the start of the New Year, the continuing ravages of changing weather patterns and their adverse potential, and real, consequences on health and nutrition and food security globally, the launch of the International Food Policy Research Institute's 2016 Global Food Policy Report1 is a timely addition to the pool of current knowledge. The report is remarkable for, among other issues in its rich content, the poll carried out among agricultural, economic development, and health and nutrition field workers, the majority of whom are in the whole pessimistic about our ability to eliminate hunger and undernutrition by the 2025, and more than half (60%) of whom are not satisfied with current global food policies. With regard to the latter, the report also calls for the creation of "a food system that is more efficient, inclusive, climate-smart, sustainable, nutrition- and health-driven, and business-friendly", indeed a mammoth task. Equally mammoth is the call to shift people's diets from the energy rich and animal foods based Western type diets to more sustainable plant foods based diets, a call that is not in itself new, in principle at least.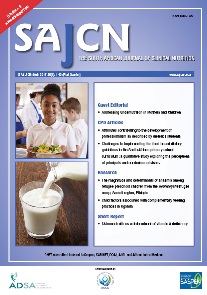 How to Cite
Labadarios, D. (2017). Editor's note. South African Journal of Clinical Nutrition, 30(1), 3. Retrieved from http://sajcn.co.za/index.php/SAJCN/article/view/1236
Material submitted for publication in the South African Journal of Clinical Nutrition (SAJCN) is accepted provided it has not been published elsewhere. Copyright forms will be sent with acknowledgement of receipt and the SAJCN reserves copyright of the material published.
The SAJCN does not hold itself responsible for statements made by the authors.