NSSA Newsbits
Editorial Office

Medpharm Publications
Abstract
During the 12th congress of the International Society for the Study of Fatty Acids and Lipids (ISSFAL) held in September 2016 in Stellenbosch, South Africa, the International Union of Nutritional Sciences and the International Expert Movement to "Improve Dietary Fat Quality" hosted a debate on whether meta-analyses and systematic reviews are decisive in formulating guidelines for dietary fat. ISSFAL chair and 2014 Nutrition Society Award recipient, Marius Smuts, North-West University, Potchefstroom, South Africa, asked for instance whether the evidence on individual saturated fatty acids should be translated into a food-based approach.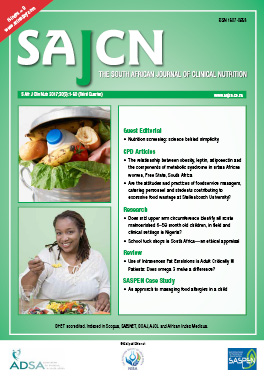 How to Cite
Office, E. (2017). NSSA Newsbits. South African Journal of Clinical Nutrition, 30(3), 59. Retrieved from http://sajcn.co.za/index.php/SAJCN/article/view/1276
Material submitted for publication in the South African Journal of Clinical Nutrition (SAJCN) is accepted provided it has not been published elsewhere. Copyright forms will be sent with acknowledgement of receipt and the SAJCN reserves copyright of the material published.
The SAJCN does not hold itself responsible for statements made by the authors.