SASPEN News
Editorial Office

Medpharm Publications
Abstract
SASPEN joined the British Dietetic Association (BDA) again this year for Dietitian's week from 12–16 June 2017. It was a great pleasure to have ADSA and The Hospital Dietitians interest group join us for the event this year. The theme of the week was "Evidence and Expertise" and was aimed at highlighting the importance of an evidence-based approach to nutrition. SASPEN also focused on creating awareness around disease related malnutrition during the campaign. SASPEN would like to thank ENASA for their help and support in distributing resource packs to dietitians. Please check out our Facebook page for photos of the week and events held over the country in support of dietetics.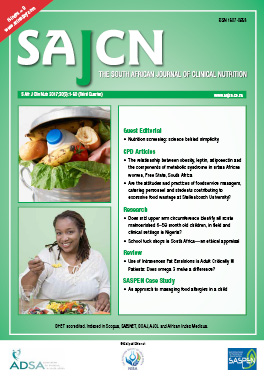 How to Cite
Office, E. (2017). SASPEN News. South African Journal of Clinical Nutrition, 30(3), 58. Retrieved from http://sajcn.co.za/index.php/SAJCN/article/view/1277
Material submitted for publication in the South African Journal of Clinical Nutrition (SAJCN) is accepted provided it has not been published elsewhere. Copyright forms will be sent with acknowledgement of receipt and the SAJCN reserves copyright of the material published.
The SAJCN does not hold itself responsible for statements made by the authors.