Editor's note
Demetre Labadarios

Human Sciences Research Council (HSRC)
Abstract
The SAJCN fraternity will recall that the SAJCN is a partner of the African Journals Online (AJOL; https://www.ajol.info/index.php/ajol/pages/view/about-AJOL-African-Journals-Online). AJOL is the world's largest online collection of African-published, peer-reviewed scholarly journals, and aims to increase online visibility, access and use of African-published research output in support of quality African research and higher education. More than 500 AJOL peer-reviewed journals from 31 African countries are hosted free online using open source software. AJOL's partner journals cover the full range of academic disciplines with particularly strong sections on health, agriculture and African studies. The AJOL website receives over 200 000 visits per month from countries around the world and allows for free access to article abstracts. More than half of the 100 000 plus full text articles on the site are in Open Access journal partners, and are free to download. Recently, AJOL has succeeded in providing accurate and easy-to-use monthly "abstract views" and "article download" statistics for each of the actively publishing titles in this Pan-African partnership of journals. The SAJCN's latest available statistics are now available [Figures 1 a (abstract views) and 1b (article downloads)]. Further information can be viewed live at https://www.ajol.info/stats/13b75896327143d1a8a5749d95621cc43f37c39e.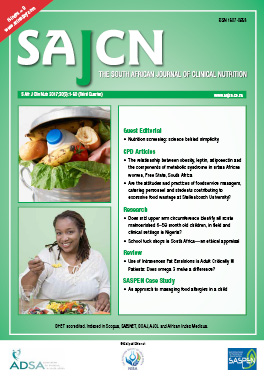 How to Cite
Labadarios, D. (2017). Editor's note. South African Journal of Clinical Nutrition, 30(3), 4. Retrieved from http://sajcn.co.za/index.php/SAJCN/article/view/1282
Material submitted for publication in the South African Journal of Clinical Nutrition (SAJCN) is accepted provided it has not been published elsewhere. Copyright forms will be sent with acknowledgement of receipt and the SAJCN reserves copyright of the material published.
The SAJCN does not hold itself responsible for statements made by the authors.