ADSA Directions
Editorial Office

Medpharm Publications
Abstract
"Breastfeeding at work – let's make it work" was the theme of this year's Breastfeeding Week, held from 1–7 August 2017, with the aim to support breastfeeding mothers when they return to work. ADSA made an infographic with information on the benefits of breastfeeding for the baby, mother and employee alike. The infographic is available for download on ADSA's website. ADSA spokespersons were also featured in articles on breastfeeding, and radio and TV interviews, including Expresso, SAFM and the Sunday Times.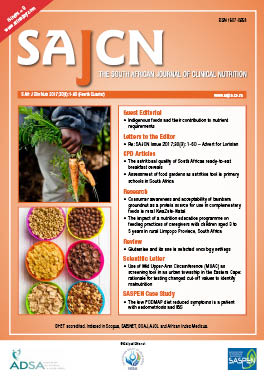 How to Cite
Office, E. (2017). ADSA Directions. South African Journal of Clinical Nutrition, 30(4), 37. Retrieved from http://sajcn.co.za/index.php/SAJCN/article/view/1293
Material submitted for publication in the South African Journal of Clinical Nutrition (SAJCN) is accepted provided it has not been published elsewhere. Copyright forms will be sent with acknowledgement of receipt and the SAJCN reserves copyright of the material published.
The SAJCN does not hold itself responsible for statements made by the authors.