SASPEN News
Editorial Office

Medpharm Publications
Abstract
SASPEN participated in the Malnutrition Awareness Week of ASPEN (American Society for Enteral and Parenteral Nutrition) from 18–22 September 2017. The purpose of this week was to raise awareness amongst healthcare professionals to consider assessing and intervening earlier in the nutrition management of hospitalised patients. The focus was also on educating the public to realize that they need to ask about their nutrition status and advocate for optimal nutrition care. Excellent resources are still available on the following website www.nutritioncare.org.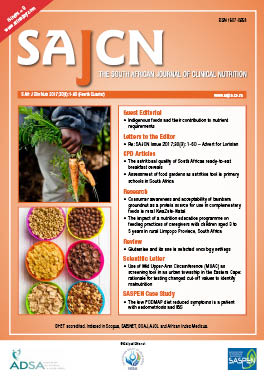 How to Cite
Office, E. (2017). SASPEN News. South African Journal of Clinical Nutrition, 30(4), 39. Retrieved from http://sajcn.co.za/index.php/SAJCN/article/view/1295
Material submitted for publication in the South African Journal of Clinical Nutrition (SAJCN) is accepted provided it has not been published elsewhere. Copyright forms will be sent with acknowledgement of receipt and the SAJCN reserves copyright of the material published.
The SAJCN does not hold itself responsible for statements made by the authors.