Editor's note
Demetre Labadarios

Human Sciences Research Council (HSRC)
Abstract
The SAJCN fraternity will be pleased to know that the prolonged discussions on a best practice approach have been concluded and the SAJCN's new Executive Editorial Board has been finalised. The new Board aims to address the growing needs of the SAJCN, expand the domains of editorial expertise, shorten the "submission to publication" cycle, and expand its visibility, accessibility as well as its capacity development programme. In the new Board, the Editor-in-Chief will be supported by the Board's Deputy Editors: Prof M Faber (Public Health Nutrition), Prof R Blaauw (Clinical Nutrition) and Prof Khangelani Zuma (Statistics). Three additional positions have also been created for Theme Editors: Prof Ali Dhansay (Paediatrics), Ms J Visser (Case Studies), and Mrs M Marais (Food Service). The SAJCN also wishes to thank the SAJCN's Management Board members, for their valued contributions, representing ADSA (Mrs M Gallagher and Ms C Day), the Nutrition Society (Prof A Dhansay and Prof M Smuts) and SASPEN (Ms C Nieuwoudt, and Ms A-L du Toit) whose term expires at the end of the year. The members of the new and expanded full Editorial Board as well as those of the Management Board will be announced in the next edition of the SAJCN.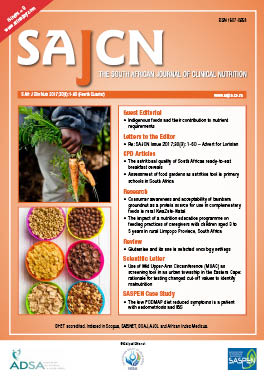 How to Cite
Labadarios, D. (2017). Editor's note. South African Journal of Clinical Nutrition, 30(4), 4. Retrieved from http://sajcn.co.za/index.php/SAJCN/article/view/1300
Material submitted for publication in the South African Journal of Clinical Nutrition (SAJCN) is accepted provided it has not been published elsewhere. Copyright forms will be sent with acknowledgement of receipt and the SAJCN reserves copyright of the material published.
The SAJCN does not hold itself responsible for statements made by the authors.