NSSA Newsbits
Editorial Office

Medpharm Publications
Abstract
The South African International Council for Science (ICSU) Secretariat serves the South African scientific community and most of the ICSU scientific unions and affiliates to which South Africa adheres. The goal of the ICSU National Board of South Africa is to promote effective South African involvement in the organisation of the ICSU network. South Africa is also a national member, via the National Research Foundation (NRF), of a number of ICSU Unions and Associates.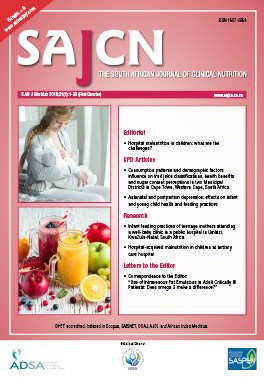 How to Cite
Office, E. (2018). NSSA Newsbits. South African Journal of Clinical Nutrition, 31(1), 30-31. Retrieved from http://sajcn.co.za/index.php/SAJCN/article/view/1324
Material submitted for publication in the South African Journal of Clinical Nutrition (SAJCN) is accepted provided it has not been published elsewhere. Copyright forms will be sent with acknowledgement of receipt and the SAJCN reserves copyright of the material published.
The SAJCN does not hold itself responsible for statements made by the authors.