ADSA Directions
Editorial Office

Medpharm Publications
Abstract
ADSA and the NSSA are proud to jointly host the upcoming Nutrition Congress at the Misty Hills conference centre, 5–7 September in Johannesburg. The theme for the 2018 congress is Nutrition: Past, Present and Future. The local organising committee is hard at work as they strive to create a platform for nutrition professionals in South Africa, to acknowledge the past successes in nutrition and to remember lessons learnt to plan for a better nutrition future for all South Africans. Delegates wishing to present oral or poster presentations are invited to submit a short abstract for consideration and inclusion in the academic programme. Abstracts must be submitted online by 30 April 2018. Registration is now open, so book your spot at the congress online now. A discount is available for early registration, which closes on 18 July 2018. Visit www.nutritioncongress.co.za to register or submit abstracts.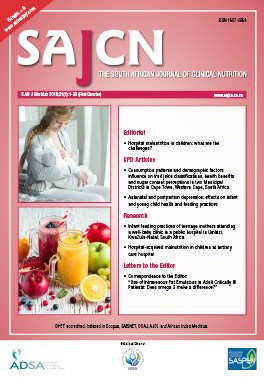 How to Cite
Office, E. (2018). ADSA Directions. South African Journal of Clinical Nutrition, 31(1), 29. Retrieved from http://sajcn.co.za/index.php/SAJCN/article/view/1325
Material submitted for publication in the South African Journal of Clinical Nutrition (SAJCN) is accepted provided it has not been published elsewhere. Copyright forms will be sent with acknowledgement of receipt and the SAJCN reserves copyright of the material published.
The SAJCN does not hold itself responsible for statements made by the authors.