NSSA Newsbits
Abstract
The president of the NSSA, Prof Ali Dhansay, attended the 58th IUNS Council Meeting in London, 1-2 March 2018. One of the agenda items was the review of the IUNS Private Sector Engagement Policy. The IUNS Council requested Council members, Prof Benjamin Caballero and Prof Ali Dhansay, to review and update this policy, which is currently under way. At the same council meeting, Prof Dhansay was appointed to the IUNS Task Force, "Towards Multidimensional Indicators of Child Growth and Development".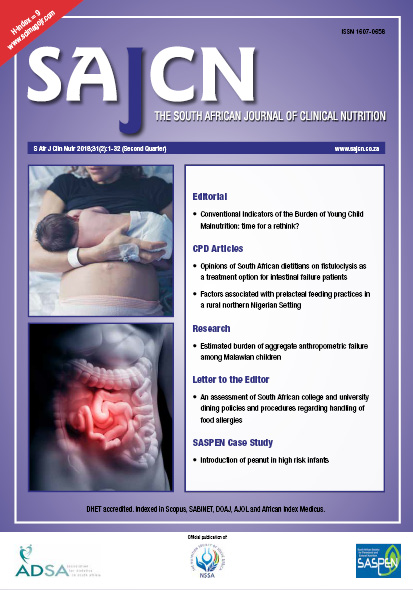 How to Cite
Office, E. (2018). NSSA Newsbits. South African Journal of Clinical Nutrition, 31(2), 31. Retrieved from http://sajcn.co.za/index.php/SAJCN/article/view/1336
Material submitted for publication in the South African Journal of Clinical Nutrition (SAJCN) is accepted provided it has not been published elsewhere. Copyright forms will be sent with acknowledgement of receipt and the SAJCN reserves copyright of the material published.
The SAJCN does not hold itself responsible for statements made by the authors.