SASPEN News
Abstract
The annual Critical Care Society of South Africa (CCSSA) congress took place in Durban on 23–26 August 2018. SASPEN joined CCSSA again this year for a very successful congress. Two LLL courses were presented by the international faculty, Prof Claude Pichard and Prof Remy Meier, as well as one of our local teachers, Dr Ravi Oodit. For those who missed the congress keep an eye out on the SASPEN social media platforms for access to congress presentations via the SASPEN website for members. Some of the presentations will also be available on Medtalkz at a later stage.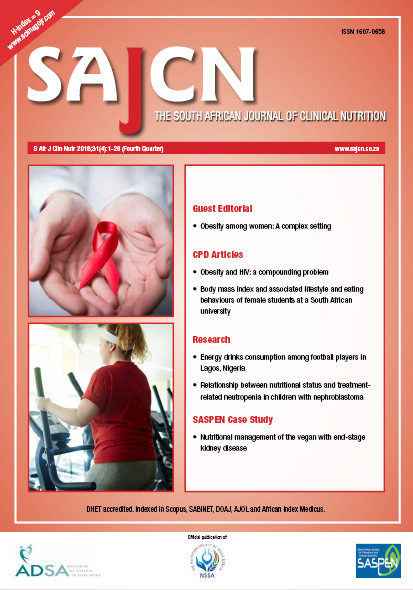 How to Cite
Office, E. (2018). SASPEN News. South African Journal of Clinical Nutrition, 31(4), 26. Retrieved from http://sajcn.co.za/index.php/SAJCN/article/view/1361
Material submitted for publication in the South African Journal of Clinical Nutrition (SAJCN) is accepted provided it has not been published elsewhere. Copyright forms will be sent with acknowledgement of receipt and the SAJCN reserves copyright of the material published.
The SAJCN does not hold itself responsible for statements made by the authors.