Nutritional management of the vegan with end-stage kidney disease
Nazeema Esau

Tygerberg Hospital

Zarina Ebrahim

Stellenbosch University
Keywords:
nutritional management, vegan, end-stage kidney disease
Abstract
Chronic kidney disease (CKD) is associated with nutritional complications such as anaemia, electrolyte imbalances, bone-mineral disorders, malnutrition and cardiovascular disease.1 The nutritional management in CKD is very complex since it includes multiple dietary factors e.g. the intake of protein, energy, sodium, phosphorus and potassium. Protein energy malnutrition is widely prevalent in this population, however recently obesity has also become more common. Poor dietary compliance often occurs in patients prescribed renal diets because it is known to be unpalatable and very restrictive with major lifestyle changes required.2,3 In a patient following a vegan diet, the complexity of dietary management increases due to further limitations in meeting specifically protein and micronutrient requirements. This is due to vegan diets being high in wholegrains, legumes, fruits and vegetables, which often need to be restricted in CKD.4 There are also some micronutrients that might be lacking due to avoidance of all animal products. Recent dietary pattern studies have indicated that healthy diet patterns in CKD patients reduced all-cause mortality with evidence from other studies also indicating that some of the dietary restrictions are not warranted.5,6,7 Chauveau et al8 suggested that plant-based diets should be used in clinical recommendations in the treatment and prevention of CKD. This case study explores a strictly vegan patient, admitted with end-stage kidney disease (ESKD) and his nutritional management which aimed at allowing the patient to continue veganism while trying to optimise his nutritional status.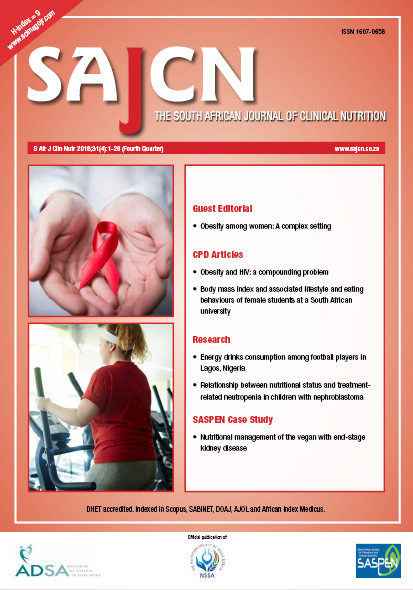 How to Cite
Esau, N., & Ebrahim, Z. (2018). Nutritional management of the vegan with end-stage kidney disease. South African Journal of Clinical Nutrition, 31(4), 18-23. Retrieved from http://sajcn.co.za/index.php/SAJCN/article/view/1362
Section
SASPEN Case Study
Material submitted for publication in the South African Journal of Clinical Nutrition (SAJCN) is accepted provided it has not been published elsewhere. Copyright forms will be sent with acknowledgement of receipt and the SAJCN reserves copyright of the material published.
The SAJCN does not hold itself responsible for statements made by the authors.