Relationship between nutritional status and treatment-related neutropenia in children with nephroblastoma
Kelly S Draper

University of KwaZulu-Natal

G P Hadley

University of KwaZulu-Natal

Kirthee Pillay

University of KwaZulu-Natal

Nicola Wiles

University of KwaZulu-Natal
Keywords:
cancer, children, malnutrition, nephroblastoma, treatment-related neutropenia
Abstract
Background:
Assessment of nutritional status of paediatric oncology patients is crucial, as it may influence treatment and clinical outcomes. Concurrent malnutrition and cancer in children may lead to reduced chemotherapy delivery due to impaired tolerance and increased toxicity.
Aim:
This study aimed to determine the relationship between nutritional status and the prevalence, frequency and duration of treatment-related neutropenia in a cohort of South African children with nephroblastoma.
Methods:
Seventy-seven children between the ages of 1 and 12 years diagnosed with nephroblastoma at Inkosi Albert Luthuli Central Hospital (IALCH), Durban, between 2004 and 2012, were studied prospectively. Nutritional status was assessed using weight, height, mid-upper arm circumference (MUAC), triceps skinfold thickness (TSFT) and serum albumin. The administration of filgastrim (Neupogen®) was used as a surrogate for neutropenia and the frequency and duration of its use was recorded.
Results:
There was a significant relationship between the prevalence of treatment-induced neutropenia and malnutrition defined by MUAC. The mean frequency and duration of neutropenia was significantly higher in those classified as malnourished using MUAC. There was a positive correlation between frequency and duration of neutropenia.
Conclusions:
Malnutrition was prevalent among children with nephroblastoma. The prevalence of treatment-induced neutropenia was higher in those with poor nutritional status, identified by MUAC. Poor nutritional status according to MUAC was also linked to an increased frequency and duration of neutropenia. It is important to include MUAC in the nutritional assessment of children with nephroblastoma. (Full text available online at
www.medpharm.tandfonline.com/ojcn
) South Afr J Clin Nutr 2018;
DOI: 10.1080/16070658.2017.140128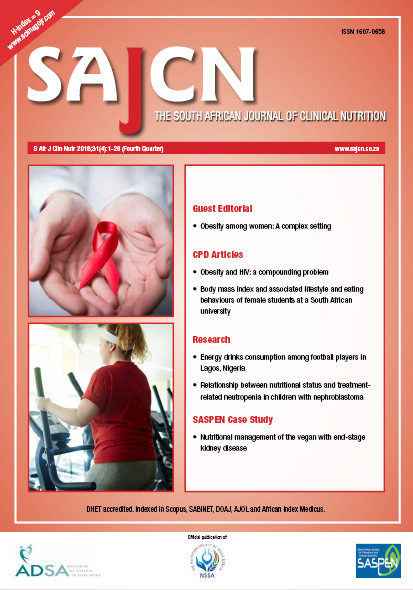 How to Cite
Draper, K., Hadley, G., Pillay, K., & Wiles, N. (2018). Relationship between nutritional status and treatment-related neutropenia in children with nephroblastoma. South African Journal of Clinical Nutrition, 31(4), 17. Retrieved from http://sajcn.co.za/index.php/SAJCN/article/view/1371
Section
Original Research
Material submitted for publication in the South African Journal of Clinical Nutrition (SAJCN) is accepted provided it has not been published elsewhere. Copyright forms will be sent with acknowledgement of receipt and the SAJCN reserves copyright of the material published.
The SAJCN does not hold itself responsible for statements made by the authors.