SASPEN News
Abstract
SASPEN has had a very busy and exciting third quarter this year!
The CCSSA/SASPEN congress took place in Cape Town from 28 August until 1 September 2019. SASPEN had a very successful congress with three workshops and two Life Long Learning (LLL) courses that were held as part of the pre-congress workshops. The workshops were well received and we will aim to repeat this at future congresses. The scientific programme had great input from two international speakers, Prof. Olav Rooyackers (Sweden) and Dr Emma Ridley (Australia) as well as our local Faculty. The congress presentations are available on the SASPEN website for members to access. SASPEN held a lucky draw for members who visited the SASPEN stand at the congress. We would like to congratulate the winners and thank the sponsors for the great gifts. The Arina Prins awards were awarded during the gala dinner and SASPEN would like to congratulate all the winners (Mrs V Donoghue [Best International Publication and Best Review Article], Mrs E van Tonder [Best National Publication] and Dr V Uckerman [Best Case Study Publication]) for their contributions to nutrition research. SASPEN also introduced a new award for Best Oral Presentation in the SASPEN congress programme which went to Prof. R Blaauw for her abstract "Plasma glutamine levels in relation to ICU patient outcomes". SASPEN will be joining CCSSA again for the congress in 2020 which will take place from 30 July – 2 August 2020.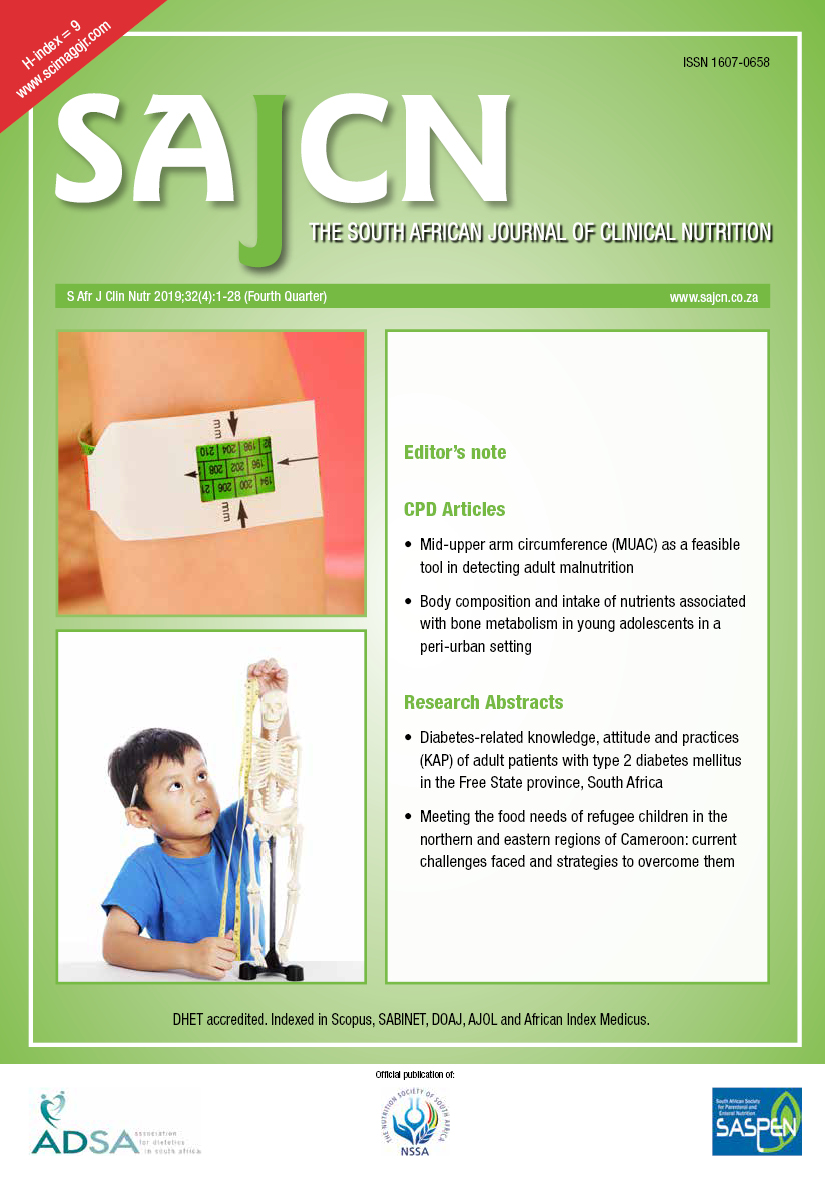 How to Cite
Office, E. (2019). SASPEN News. South African Journal of Clinical Nutrition, 32(4), 22. Retrieved from http://sajcn.co.za/index.php/SAJCN/article/view/1427
Material submitted for publication in the South African Journal of Clinical Nutrition (SAJCN) is accepted provided it has not been published elsewhere. Copyright forms will be sent with acknowledgement of receipt and the SAJCN reserves copyright of the material published.
The SAJCN does not hold itself responsible for statements made by the authors.