Mid-upper arm circumference (MUAC) as a feasible tool in detecting adult malnutrition
E Van Tonder

Nelson Mandela University

L Mace

Tayler Bequest Hospital

L Steenkamp

Settlers Hospital

R Tydeman-Edwards

Port Elizabeth Provincial Hospital

K Gerber

Nelson Mandela University

D Friskin

Nelson Mandela University
Keywords:
adults, hospitalised, malnutrition, mid-upper arm circumference, MUAC, referral rates, screening
Abstract
Objectives: This study aimed to expand on the limited South African malnutrition prevalence data and investigate the feasibility of mid-upper-arm circumference (MUAC) as a malnutrition screening tool.
Design: A cross-sectional, multi-centre, descriptive design was adopted.
Setting: The study was undertaken in three tertiary public hospitals in the same urban area within the Eastern Cape of South Africa.
Subjects: Adult hospitalised patients volunteered to participate (n = 266).
Methods: Data were collected using interviewer-administered questionnaires; obtaining anthropometric measurements; and consulting medical files. For maximum accuracy of various MUAC cut-off points, receiver operating characteristic curves were generated and area under the curve determined.
Results: Both body mass index (BMI) and MUAC identified 21% of participants as underweight or malnourished, and 39% as overweight or obese. The Malnutrition Universal Screening Tool (MUST) found 23% at increased malnutrition risk. Nurses or doctors detected and referred only 19% of underweight patients (BMI < 18.5 kg/m2), to dietetics services. Direct measurements of BMI and MUST were unobtainable in 38% and 43% of patients respectively, whilst MUAC was obtainable in 100%. A statistically significant relationship (p < 0.001) exists between MUAC, BMI and MUST to detect malnutrition or malnutrition risk. MUAC cut-offs for undernutrition were determined at < 23 cm (BMI < 16 kg/m2) and < 24 cm (BMI < 18.5 kg/m2), respectively, for the study's population groups.
Conclusion: Malnutrition prevalence was high in this study, but often unidentified, with only a fifth referred to dietetic services. MUAC is a feasible method to identify adult malnutrition and should be considered as a malnutrition screening tool and key nutritional status indicator in South African public hospitals.
The full article is available at https://doi.org/10.1080/16070658.2018.1484622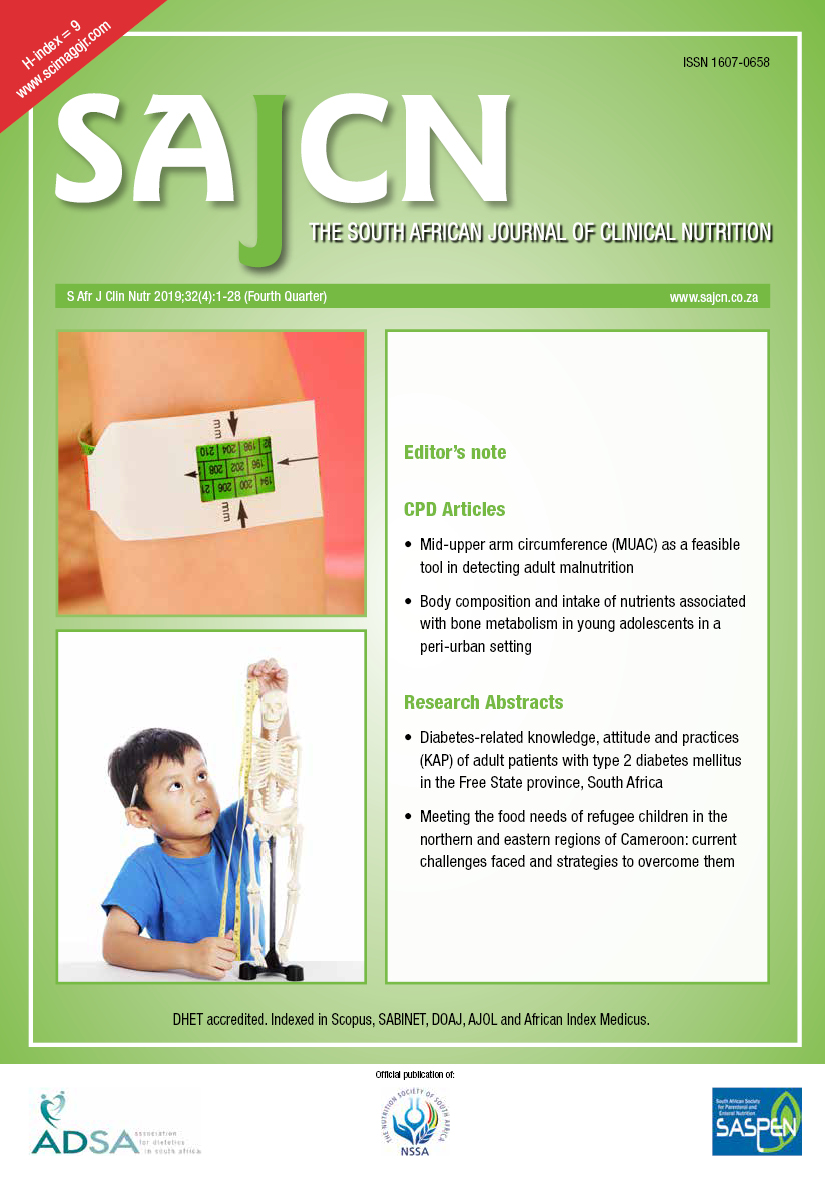 How to Cite
Van Tonder, E., Mace, L., Steenkamp, L., Tydeman-Edwards, R., Gerber, K., & Friskin, D. (2019). Mid-upper arm circumference (MUAC) as a feasible tool in detecting adult malnutrition. South African Journal of Clinical Nutrition, 32(4), 5-10. Retrieved from http://sajcn.co.za/index.php/SAJCN/article/view/1438
Section
Original Research
Material submitted for publication in the South African Journal of Clinical Nutrition (SAJCN) is accepted provided it has not been published elsewhere. Copyright forms will be sent with acknowledgement of receipt and the SAJCN reserves copyright of the material published.
The SAJCN does not hold itself responsible for statements made by the authors.