Body composition and intake of nutrients associated with bone metabolism in young adolescents in a peri-urban setting
M Fourie

University of Pretoria

G J Gericke

University of Pretoria

M C Kruger

Massey University
Keywords:
body composition, bone mineral content, preadolescent children, vitamin D status
Abstract
Objective: The aim was to describe the anthropometry, bone mineral content (BMC), bone mineral density (BMD), dietary calcium intake and 25(OH)D3 levels in 11- and 12-year-old children in a peri-urban area.
Design: A cross-sectional, descriptive study in the quantitative domain was undertaken.
Setting: Bronkhorstspruit, Gauteng, South Africa.
Subjects: Children, conveniently selected, were assessed in two groups. The first group comprised 70 children. From the 70 children, 20 children were conveniently selected to form a sub-sample (n = 20).
Outcome measures: Anthropometric data (weight, height) and dietary data (three quantified multi-pass 24-hour recalls). Children in the sub-sample additionally underwent body composition assessment (dual-energy X-ray absorptiometry; DXA scan) and a finger prick for 25(OH)D3.
Results: BMI and body composition data (body fat mass and lean fat mass) showed that the girls exceeded the boys in all measurements. The girls had a non-significantly higher BMD and BMC than the boys. The mean and median values for 25(OH)D3 were lower than the reference range values. Dietary intake results showed that the children had a sufficient macronutrient intake, but a deficient intake of calcium, phosphate and vitamin D. The sub-sample had a mean vitamin D intake of 3.2 mcg.
Conclusion: The girls exceeded the boys in all the anthropometric and body composition measurements. The calcium and vitamin D intake of the children were of concern. There were no significant differences or relationships in the bone measurements and vitamin D status between the boys and girls.
The full article is available at https://doi.org/10.1080/16070658.2018.1487614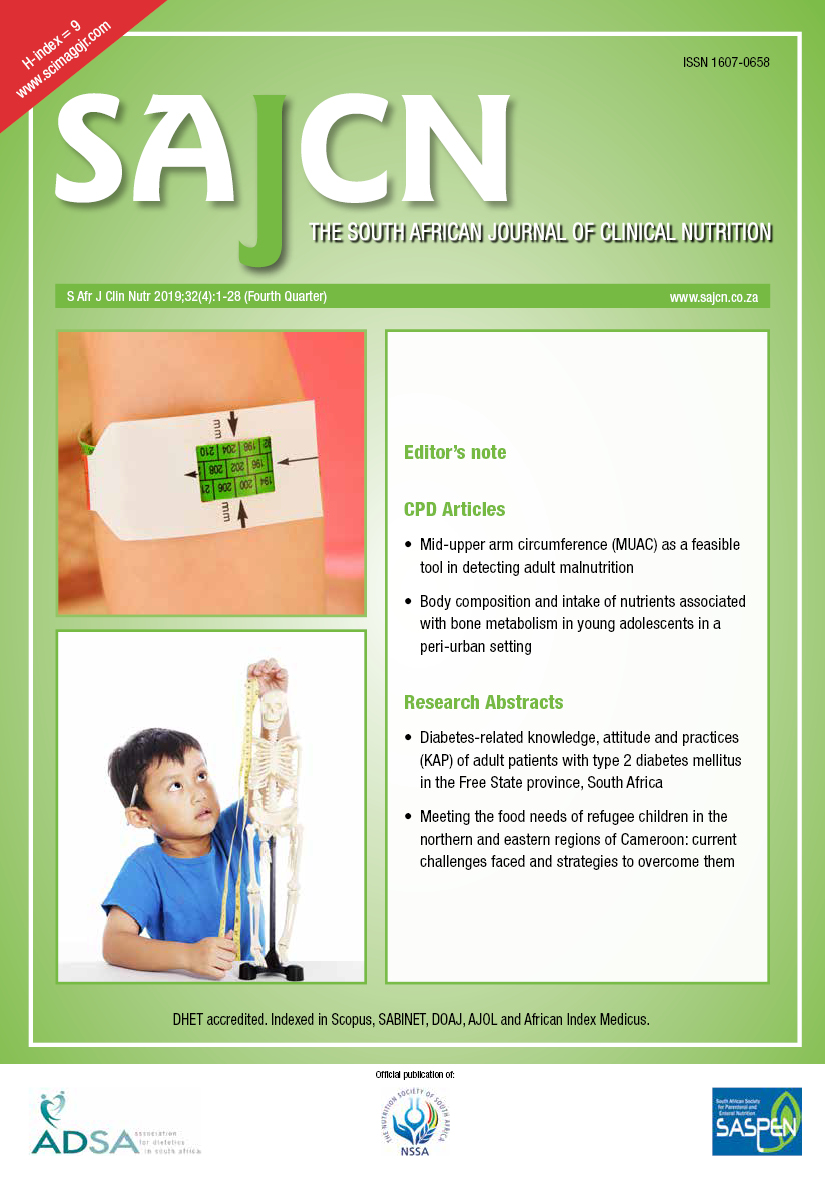 How to Cite
Fourie, M., Gericke, G., & Kruger, M. (2019). Body composition and intake of nutrients associated with bone metabolism in young adolescents in a peri-urban setting. South African Journal of Clinical Nutrition, 32(4), 12-19. Retrieved from http://sajcn.co.za/index.php/SAJCN/article/view/1440
Section
Original Research
Material submitted for publication in the South African Journal of Clinical Nutrition (SAJCN) is accepted provided it has not been published elsewhere. Copyright forms will be sent with acknowledgement of receipt and the SAJCN reserves copyright of the material published.
The SAJCN does not hold itself responsible for statements made by the authors.