Completeness of the road-to-health card and factors affecting knowledge and practices of growth monitoring and promotion in caregivers of young children in KwaZulu-Natal
T Mabesa

S Knight

N Nkwanyana
Abstract
Introduction: Malnutrition is an increasing public health challenge in low- and middle-income countries. Growth Monitoring and Promotion (GMP) is a United Nations International Children's Emergency Fund (UNICEF) strategy to combat malnutrition. This study aimed to measure factors associated with knowledge and practices of GMP in caregivers of children from birth to 24 months referred to Inkosi Albert Luthuli Central Hospital (IALCH) from health facilities in KwaZulu-Natal (KZN) during 2018.
Methods: An observational, analytic cross-sectional study design was used. The study sample comprised 383 caregivers of these children. Data were obtained from interviewer-administered questionnaires.
Results: Most caregivers (n = 201, 52%) were between the ages of 21 and 30 years; 95% (n = 360) had more than primary education. Most (n = 341, 89%) caregivers presented the Road-to-Health Card (RTHC) for assessment, but only 7.6% (n = 26) were complete. Most caregivers (n = 281, 73%) had an excellent overall knowledge of how an RTHC contributes to GMP. However, only 38 (10%) had the skill to interpret all four of the test growth charts. There was a statistically significant association (p < 0.05) between some caregivers' variables and their knowledge of the RTHC.
Conclusion: Despite having good theoretical knowledge concerning the information in the RTHCs, most caregivers could not correctly interpret the growth charts. The education of caregivers and health workers on the importance of appropriate use of the RTHC for GMP is recommended.
Keywords knowledge of caregivers, growth monitoring and promotion, malnutrition, road-to-health-charts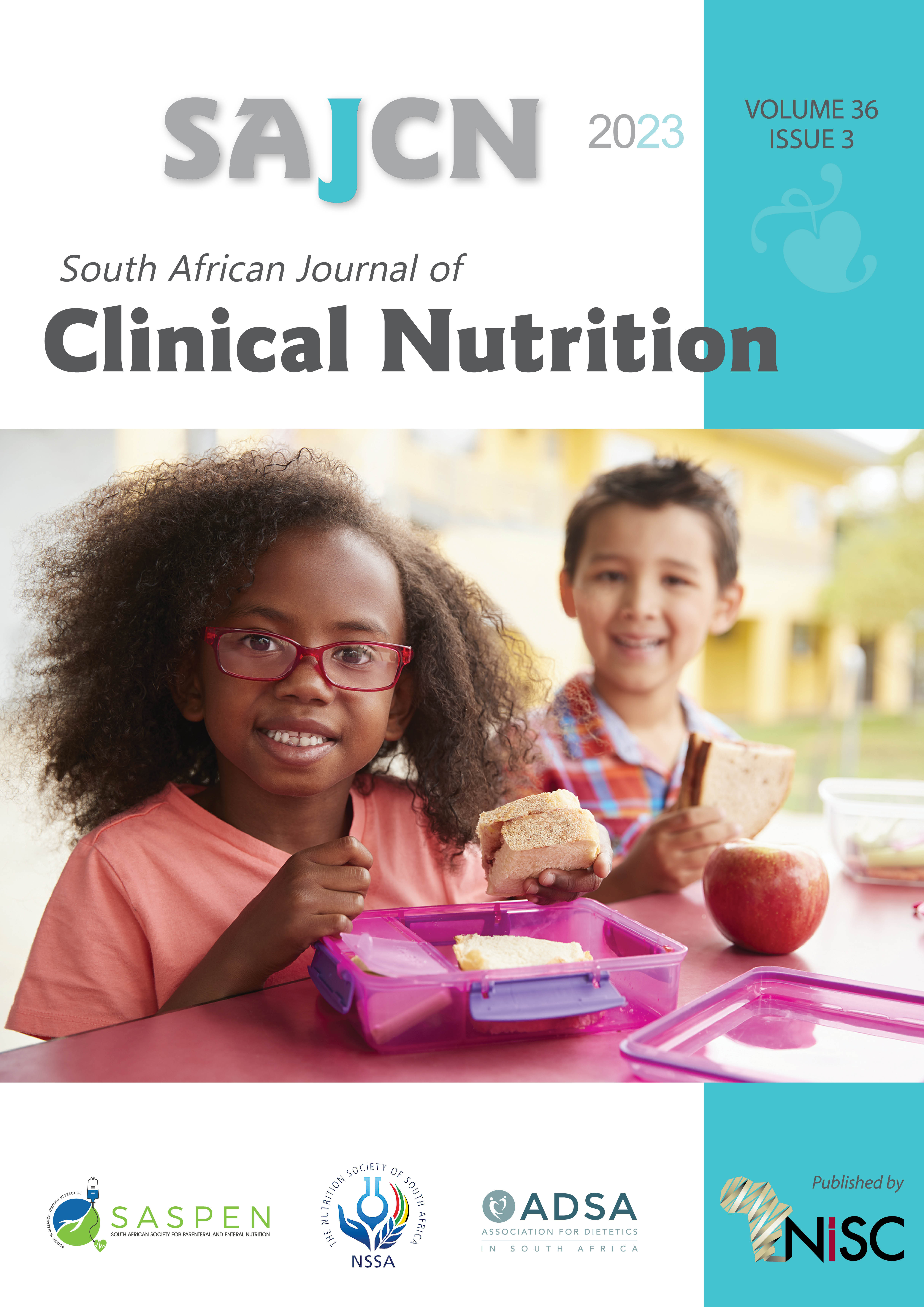 How to Cite
Mabesa, T., Knight, S., & Nkwanyana, N. (2023). Completeness of the road-to-health card and factors affecting knowledge and practices of growth monitoring and promotion in caregivers of young children in KwaZulu-Natal. South African Journal of Clinical Nutrition, 36(3), 84–92. Retrieved from http://sajcn.co.za/index.php/SAJCN/article/view/1674
Section
Original Research
Material submitted for publication in the South African Journal of Clinical Nutrition (SAJCN) is accepted provided it has not been published elsewhere. Copyright forms will be sent with acknowledgement of receipt and the SAJCN reserves copyright of the material published.
The SAJCN does not hold itself responsible for statements made by the authors.