Feasibility and acceptability of continuous at-home glucose monitoring during pregnancy: a mixed-methods pilot study
A van Heerden

S Kolozali

SA Norris
Abstract
Background: Continuous monitoring of glucose (CGM) via subcutaneous patch is an accurate self-monitoring tool of blood glucose, but also introduces a range of additional benefits such as real-time feedback. While its value among pregnant women with gestational diabetes mellitus (GDM) is established in high-income countries, little is known about the feasibility and acceptability among pregnant women without GDM in low-resource settings in low- and middle-income countries.
Objectives: This study aims to assess the feasibility and acceptability of CGM with pregnant mothers in South Africa and to explore the value of a collected data set for GDM prevention.
Methods: Ten women between 12 and 18 weeks pregnant were recruited from the antenatal clinic at Chris Hani Baragwanath Academic Hospital into a prospective mixed-methods pilot study. Demographic and anthropometric data, HbA1c and a lipid panel were collected. Women then wore two consecutive Freestyle Libre 2 patches for a total of 28 days. In-depth interviews were undertaken with all 10 women on study exit to explore themes of acceptability and the use of technology during pregnancy. Thematic analysis was performed on the qualitative data while exploratory data-analysis techniques were applied to the CGM data.
Results: Pregnant women (n = 10) had a mean (SD) age of 29.81 years (4.39), with most being unemployed (8), unmarried (8) and without a tertiary degree (7). Analysis suggests that fear of use was greater than the actual discomfort experienced during use of the CGM patch. The main barrier to use was the patch falling off and women being uncomfortable to reapply it. This was borne out by all 10 women wearing the first patch for at least 12 of the 14 days, but only 4 managing the same with patch two – primarily applied by themselves at home. Women expressed support for the use of technology during pregnancy, especially as it related to feeling that their pregnancy was being monitored and that they were being supported.
Conclusion: In this pilot study, women overwhelmingly found the wearing of a CGM patch during pregnancy to be acceptable. Feasibility was reasonable with most data being successfully retrieved from the devices over a two-week period. Longer use was found to have additional challenges. The use of CGM patches appear to be a possible candidate for inclusion in GDM prevention or behavioural interventions during pregnancy in South Africa.
Keywords: feasibility, acceptability, continuous at-home glucose monitoring, pregnancy, mixed-methods, pilot study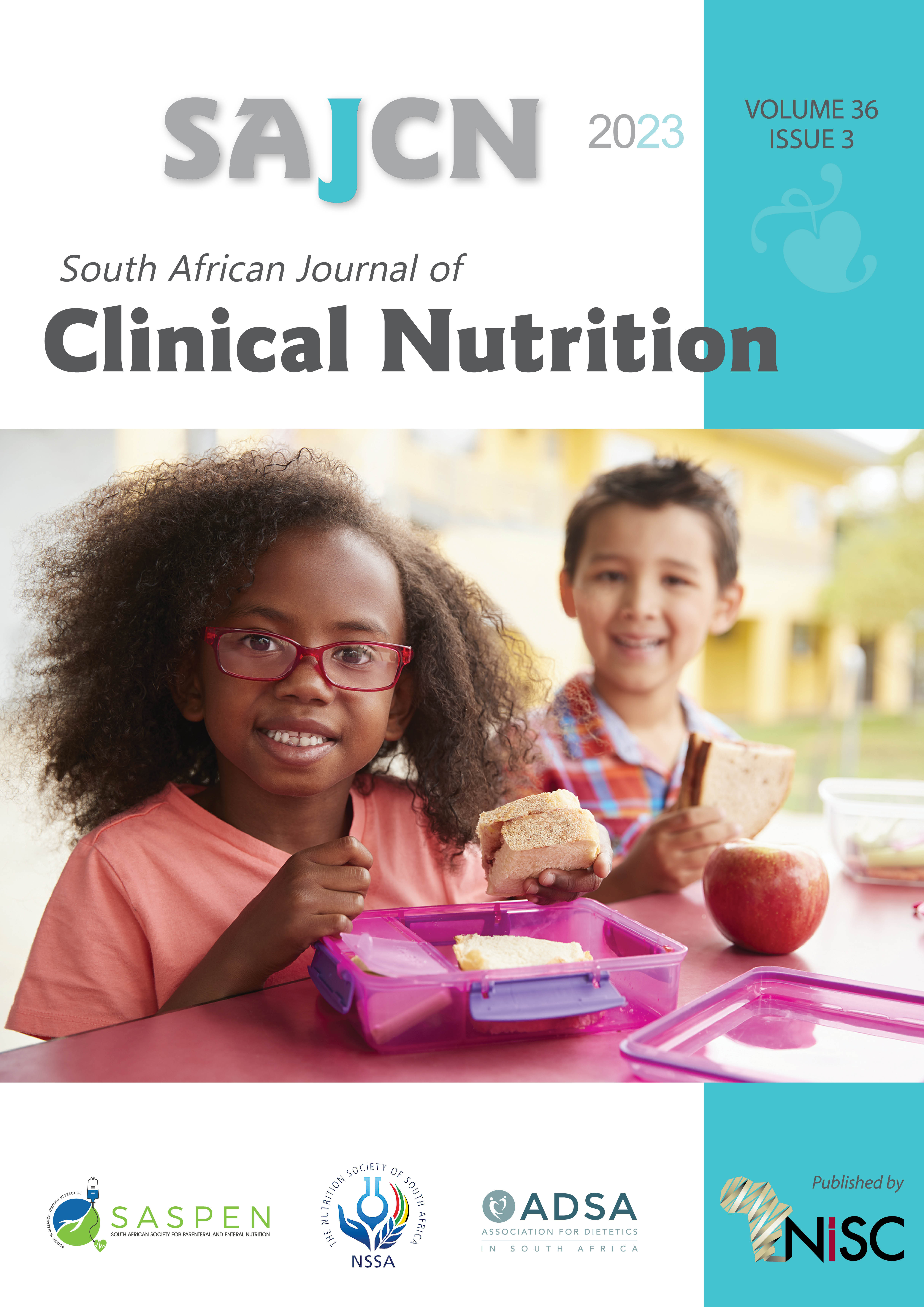 How to Cite
van Heerden, A., Kolozali, S., & Norris, S. (2023). Feasibility and acceptability of continuous at-home glucose monitoring during pregnancy: a mixed-methods pilot study. South African Journal of Clinical Nutrition, 36(3), 100–107. Retrieved from http://sajcn.co.za/index.php/SAJCN/article/view/1676
Section
Original Research
Material submitted for publication in the South African Journal of Clinical Nutrition (SAJCN) is accepted provided it has not been published elsewhere. Copyright forms will be sent with acknowledgement of receipt and the SAJCN reserves copyright of the material published.
The SAJCN does not hold itself responsible for statements made by the authors.