Energy and nutrient contribution of different food groups to the dietary intake of 6- to <9-month-old infants in a low socioeconomic community in North West Province, South Africa
T Mukwevho

CM Smutsa

H Asare

M Faber
Abstract
Objective: A study was undertaken to determine the energy and nutrient contribution of different food groups to the dietary intake of 6- to <9-month-old infants.
Design: An observational study was conducted using baseline data of a preliminary randomised controlled trial that aimed to determine the effect of egg consumption on infant growth.
Setting and subjects: Participants resided in a peri-urban community (Jouberton) in North West province, South Africa. The study included 6- to <9-month-old infants (n = 155); 24-hour dietary recall data were available for n = 144.
Results: Most infants consumed either two (29.2%) or three (42.4%) out of eight food groups. The grains/roots/tubers group was consumed by 95.8% of infants; for consumers thereof, it contributed 75.5% of iron, 53.0% of thiamine and 42.5% of folate. Breast milk and dairy were consumed respectively by 64.4% of infants. For breastfed infants, breast milk was the major contributor of energy and fat, and some micronutrients (calcium, zinc, vitamin A, vitamin C, niacin and riboflavin); but they had lower intakes (p < 0.05) for all micronutrients except vitamin A compared with non-breastfed infants. For consumers (16.7%) of animal-source foods (ASFs), these contributed 42.8% for vitamin B12 and 33.4% for protein; and intake of
protein, riboflavin and vitamin B12 was higher (p < 0.05) for consumers compared with non-consumers. The least consumed food groups were legumes (0.7%), flesh foods (6.9%) and eggs (10.4%).
Conclusion: Grains/roots/tubers, dairy and breast milk made a major contribution to the intake of key nutrients. Animal-source foods were not consumed frequently, but for consumers thereof made a substantial contribution as well.
Recommendation: Strategies to improve dietary diversity should encourage continued breastfeeding, aim to increase intake of food groups not frequently consumed and promote locally available food.
Keywords: dietary diversity, food groups, infants, nutrient adequacy, nutrient contribution, South Africa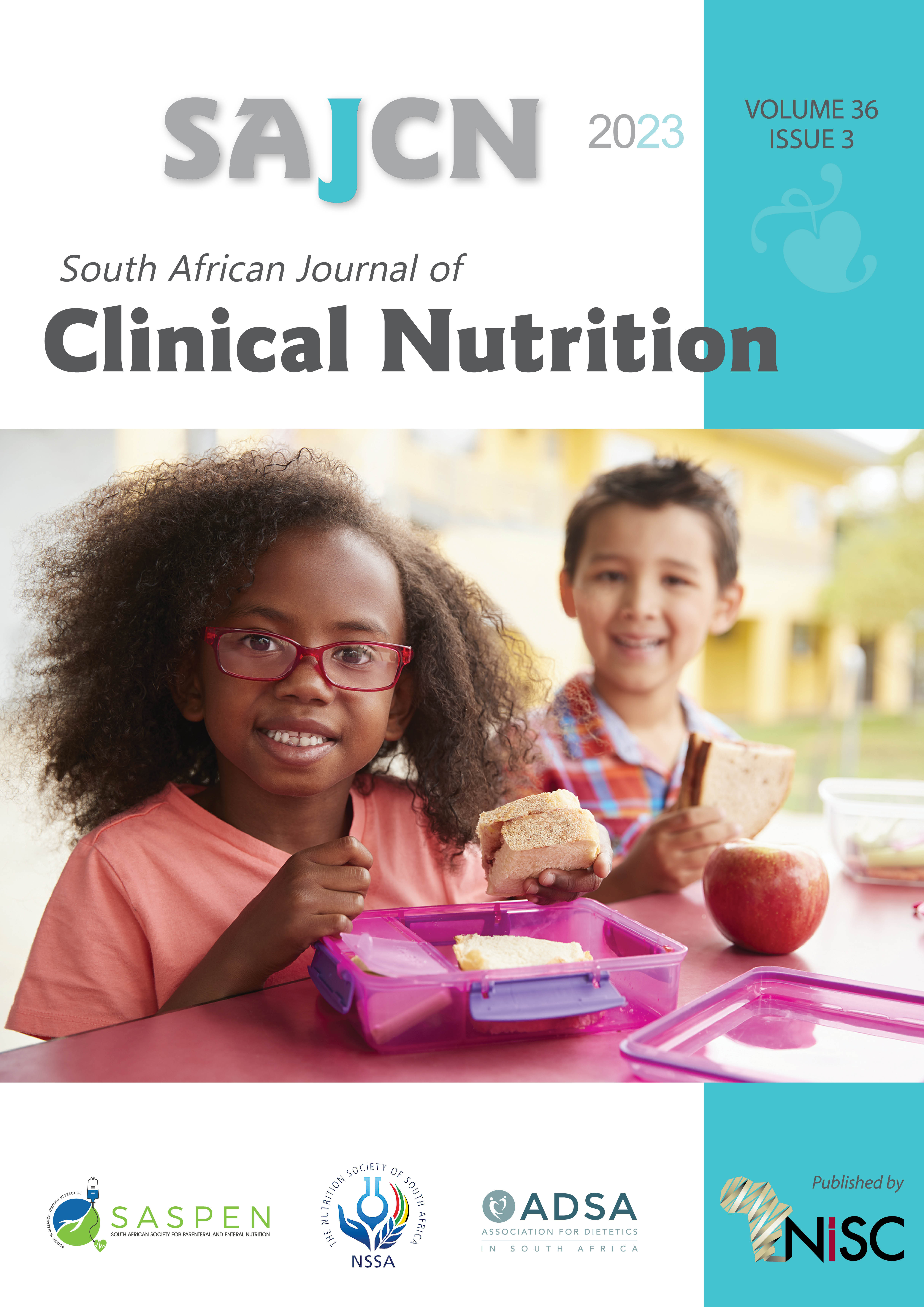 How to Cite
Mukwevho, T., Smutsa, C., Asare, H., & Faber, M. (2023). Energy and nutrient contribution of different food groups to the dietary intake of 6- to <9-month-old infants in a low socioeconomic community in North West Province, South Africa. South African Journal of Clinical Nutrition, 36(3), 126–135. Retrieved from http://sajcn.co.za/index.php/SAJCN/article/view/1679
Section
Original Research
Material submitted for publication in the South African Journal of Clinical Nutrition (SAJCN) is accepted provided it has not been published elsewhere. Copyright forms will be sent with acknowledgement of receipt and the SAJCN reserves copyright of the material published.
The SAJCN does not hold itself responsible for statements made by the authors.