The necessity of a balanced diet to prevent the emergence of lifestyle disorders
Saurabh RamBihariLal Shrivastava

Shri Sathya Sai Medical College & Research Institute

Prateek Saurabh Shrivastava

Shri Sathya Sai Medical College & Research Institute

Jegadeesh Ramasamy

Shri Sathya Sai Medical College & Research Institute
Keywords:
Balanced diet, lifestyle disorders, non-communicable diseases
Abstract
Recent decades have revealed a massive increase in the incidence of lifestyle disorders. Worldwide, of the reported 57-million deaths in 2008, 36 million (63%) were due to noncommunicable diseases (NCDs).1 Ensuring the amalgamation of a healthy diet with an active lifestyle can have a major impact on health by reducing the risk of NCDs, such as heart disease, hypertension, strokes, diabetes mellitus, cancer and obesity.2 Excessive consumption of energydense food that is rich in saturated fats, so-called junk food, and unhealthy dietary practices are major attributable factors to the observed rise in lifestyle disorders.2,3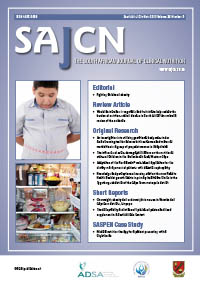 How to Cite
Shrivastava, S., Shrivastava, P., & Ramasamy, J. (2013). The necessity of a balanced diet to prevent the emergence of lifestyle disorders. South African Journal of Clinical Nutrition, 26(3), 156-157. Retrieved from http://sajcn.co.za/index.php/SAJCN/article/view/786
Section
Letters to the Editor
Material submitted for publication in the South African Journal of Clinical Nutrition (SAJCN) is accepted provided it has not been published elsewhere. Copyright forms will be sent with acknowledgement of receipt and the SAJCN reserves copyright of the material published.
The SAJCN does not hold itself responsible for statements made by the authors.