The great supplement advertising rip-off
Nigel Sunley

Sunley Consulting
Abstract
The recurring issue of misleading and questionable advertising of nutritional supplements is one that should concern us, as professionals, whose code of practice and professional behaviour hinges on the need to provide the right information to our customers, whether they are hospital patients, the clients of dietitians in private practice, the public sector, or members of the public to whom we provide products on a commercial basis designed to improve their health and well-being. Our task is inherently simplified in situations in which we have formal legal provision to assist us to provide clear guidelines that pertain to the dissemination of correct information. However, in cases where regulation is either nonexistent, insufficient, ambiguous or poorly enforced, our task is far more difficult, since in such cases it is far easier for unscrupulous commercial interests to impact upon the gullibility and lack of scientific information that the average consumer possesses. In particular, the perennial, understandable but naïve quest of consumers to find the proverbial "magic bullet" supplement, which does not exist, is even more difficult to manage. In these situations, we need to use our own judgement to a far greater extent. Of course, this entails strengthening our own scientific knowledge base of the topics concerned.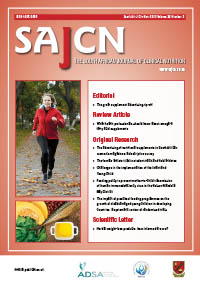 How to Cite
Sunley, N. (2013). The great supplement advertising rip-off. South African Journal of Clinical Nutrition, 26(2), 54-55. Retrieved from http://sajcn.co.za/index.php/SAJCN/article/view/794
Material submitted for publication in the South African Journal of Clinical Nutrition (SAJCN) is accepted provided it has not been published elsewhere. Copyright forms will be sent with acknowledgement of receipt and the SAJCN reserves copyright of the material published.
The SAJCN does not hold itself responsible for statements made by the authors.