NSSA newsbits
Editorial Office

Medpharm Publications
Abstract
Prof Carin Napier was re-elected as chairperson of the Eastern branch of Nutrition Society of South Africa (NSSA) for 2013-2014. Lenore Spies is the treasurer; Christine Broadhurst, the secretary; and Thobe Dlamuka, Heleen Grobbelaar, Christelle Crickmore and Justine Casey, the other committee members.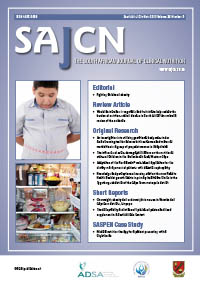 How to Cite
Office, E. (1). NSSA newsbits. South African Journal of Clinical Nutrition, 26(3), 157. Retrieved from http://sajcn.co.za/index.php/SAJCN/article/view/807
Material submitted for publication in the South African Journal of Clinical Nutrition (SAJCN) is accepted provided it has not been published elsewhere. Copyright forms will be sent with acknowledgement of receipt and the SAJCN reserves copyright of the material published.
The SAJCN does not hold itself responsible for statements made by the authors.