Medical nutrition therapy for a patient presenting with a chylothorax
Vanessa Kotzé

University of Pretoria

Nadia Van Schalkwyk

Themba Hospital
Keywords:
medical nutrition therapy, chylothorax
Abstract
A chylothorax can be defined as a leakage of chylous fluid from an abnormal or damaged thoracic duct or a main branch thereof, after an injury or obstruction in the pleural cavity. Management of a chylothorax includes surgical and conservative medical treatment that includes medical nutrition therapy. However, there is no clear evidence yet as to whether enteral nutrition or parenteral nutrition is the preferred nutrition support option for medical nutrition therapy.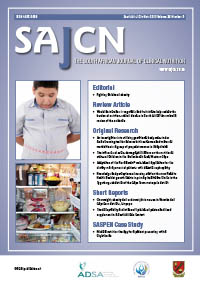 How to Cite
Kotzé, V., & Van Schalkwyk, N. (2013). Medical nutrition therapy for a patient presenting with a chylothorax. South African Journal of Clinical Nutrition, 26(3), 152-155. Retrieved from http://sajcn.co.za/index.php/SAJCN/article/view/809
Section
SASPEN Case Study
Material submitted for publication in the South African Journal of Clinical Nutrition (SAJCN) is accepted provided it has not been published elsewhere. Copyright forms will be sent with acknowledgement of receipt and the SAJCN reserves copyright of the material published.
The SAJCN does not hold itself responsible for statements made by the authors.