Fighting childhood obesity
Zandile June-Rose Mchiza

Medical Research Council South Africa

Eleni Maria Winifred Maunder

Bournemouth University
Abstract
This South African Journal of Clinical Nutrition (SAJCN) issue comes at a time when childhood obesity is attracting considerable attention in the country. South Africa is a middle-income country and regarded as being in the final stage of nutrition transition.1 Thus, while successive national surveys in South Africa have shown some decrease in the prevalence of undernutrition, particularly underweight, in children, the prevalence of chronic overnourishment (overweight and obesity) is growing progressively and is a public health concern. This was highlighted in the recently released report of the 2012 South African National Health and Nutrition Examination Survey (NHANES-1),2 which concluded that "interventions are needed to address the dual problems of chronic undernutrition (stunting) and the rapidly rising trend of overweight and obesity in children in South Africa".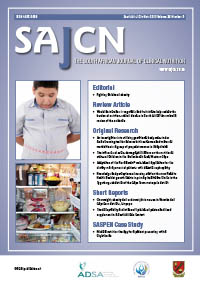 How to Cite
Mchiza, Z., & Maunder, E. (2013). Fighting childhood obesity. South African Journal of Clinical Nutrition, 26(3), 100-102. Retrieved from http://sajcn.co.za/index.php/SAJCN/article/view/811
Material submitted for publication in the South African Journal of Clinical Nutrition (SAJCN) is accepted provided it has not been published elsewhere. Copyright forms will be sent with acknowledgement of receipt and the SAJCN reserves copyright of the material published.
The SAJCN does not hold itself responsible for statements made by the authors.