Ethical tensions faced by dietetic students during fieldwork
Nico Nortjé

University of the Western Cape
Keywords:
ethical tension, dietetics students, confidentiality, value conflict, limited resources
Abstract
Research confirms that students carrying out their fieldwork are faced with various ethical conundrums and are unsure as to how to address these. This study identifies and discusses four major issues in this regard, namely confidentiality issues, the distribution of limited resources, power struggles and conflicting values with clients.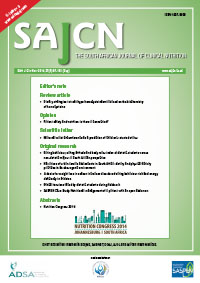 How to Cite
Nortjé, N. (2014). Ethical tensions faced by dietetic students during fieldwork. South African Journal of Clinical Nutrition, 27(3), 128-131. Retrieved from http://sajcn.co.za/index.php/SAJCN/article/view/812
Section
Original Research
Material submitted for publication in the South African Journal of Clinical Nutrition (SAJCN) is accepted provided it has not been published elsewhere. Copyright forms will be sent with acknowledgement of receipt and the SAJCN reserves copyright of the material published.
The SAJCN does not hold itself responsible for statements made by the authors.