National Department of Health creates a new Chief Directorate
Editorial Office

Department of Health
Abstract
For several years, there has been an ongoing discussion on the need to place Nutrition and Dietetics on a more senior level within the Department's of Health's management structure. This would enable the current Directorate of Nutrition to attain more direct representation with regard to the many and significant priorities in Nutrition and Dietetics in the country. The recent creation of the new Chief Directorate: Health Promotion and Nutrition has addressed this long-awaited development.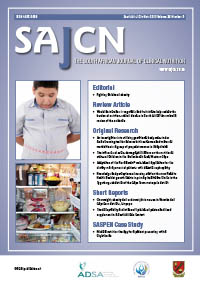 How to Cite
Office, E. (1). National Department of Health creates a new Chief Directorate. South African Journal of Clinical Nutrition, 26(3), 158. Retrieved from http://sajcn.co.za/index.php/SAJCN/article/view/829
Material submitted for publication in the South African Journal of Clinical Nutrition (SAJCN) is accepted provided it has not been published elsewhere. Copyright forms will be sent with acknowledgement of receipt and the SAJCN reserves copyright of the material published.
The SAJCN does not hold itself responsible for statements made by the authors.