Editor's Note
Demetre Labadarios

Human Sciences Research Council (HSRC)
Abstract
The current issue of the SAJCN reflects on three significant elements in the growth of nutrition in the country. Firstly, a new Chief Directorate: Health Promotion and Nutrition has been created in the national Department of Health. Chief Director, Ms Moeng Mahlangu, writes: "The primary healthcare reengineering process has already laid a strong foundation for improving the health of South Africans through the involvement of communities, and the need to implement evidence-based interventions to guide programming is of paramount importance". The SAJCN congratulates Ms Moeng Mahlangu, and offers its support to the Chief Directorate's future challenges of addressing national priorities for the further development of Nutrition and Dietetics in the country, as well as improving the nutritional status of the nation.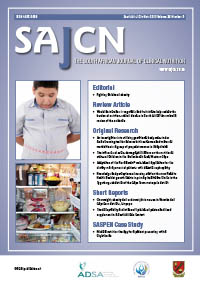 How to Cite
Labadarios, D. (1). Editor's Note. South African Journal of Clinical Nutrition, 26(3), 98. Retrieved from http://sajcn.co.za/index.php/SAJCN/article/view/830
Material submitted for publication in the South African Journal of Clinical Nutrition (SAJCN) is accepted provided it has not been published elsewhere. Copyright forms will be sent with acknowledgement of receipt and the SAJCN reserves copyright of the material published.
The SAJCN does not hold itself responsible for statements made by the authors.