Maternal waist circumference as a prediction of children's stunted status
Abdulkadir A Egal

Vaal University of Technology

Wilna Oldewage-Theron

Vaal University of Technology
Keywords:
obesity, stunting, waist, SCOM
Abstract
The main objective of this paper was to explore the prevalence of Stunted Child and Overweight Mother (SCOM) pairs in a South African setting. After a literature review of existing South African studies, the authors plan to inspire South African researchers to investigate the region-specific prevalence of SCOM in their respective areas, and to create a series of discussion papers and reviews in order to harness evidence-based strategies that could support ongoing efforts with respect to mother and child malnutrition in South African. This pilot study, carried out in the QuaQua region of the Free State, indicates the existence of a linear association between a mother's waist circumference and her child's stunted status.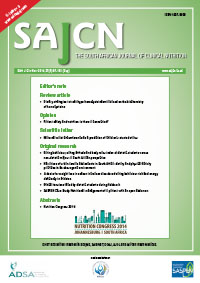 How to Cite
Egal, A., & Oldewage-Theron, W. (2014). Maternal waist circumference as a prediction of children's stunted status. South African Journal of Clinical Nutrition, 27(3), 108-109. Retrieved from http://sajcn.co.za/index.php/SAJCN/article/view/882
Section
Short Reports or Scientific Letters
Material submitted for publication in the South African Journal of Clinical Nutrition (SAJCN) is accepted provided it has not been published elsewhere. Copyright forms will be sent with acknowledgement of receipt and the SAJCN reserves copyright of the material published.
The SAJCN does not hold itself responsible for statements made by the authors.