ADSA Directions
Editorial Office

Medpharm Publications
Abstract
The ADSA Executive Committee national roadshow will visit each of its branches in the coming months to introduce the ADSA social media guidelines, as well as provide an update on exciting developments within ADSA. Attend the roadshow at your local branch and complete the corresponding CPD article to earn four ethics points.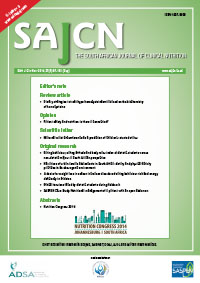 How to Cite
Office, E. (1). ADSA Directions. South African Journal of Clinical Nutrition, 27(3), 143. Retrieved from http://sajcn.co.za/index.php/SAJCN/article/view/911
Material submitted for publication in the South African Journal of Clinical Nutrition (SAJCN) is accepted provided it has not been published elsewhere. Copyright forms will be sent with acknowledgement of receipt and the SAJCN reserves copyright of the material published.
The SAJCN does not hold itself responsible for statements made by the authors.