The low FODMAP diet reduced symptoms in a patient with endometriosis and IBS
Erica Jankovich

Sasha Watkins
Keywords:
irritable bowel syndrome, IBS, FODMAP diet,
Abstract
Irritable Bowel Syndrome (IBS) and endometriosis are little researched co-morbidities. Symptoms overlap and the lack of a suitable biological marker or a non-invasive diagnostic test, in both cases, make diagnosis complex and confusing.1 IBS is a gastrointestinal condition diagnosed by the absence of organic disease and the presence of recurrent abdominal pain and alteration in bowel habit.2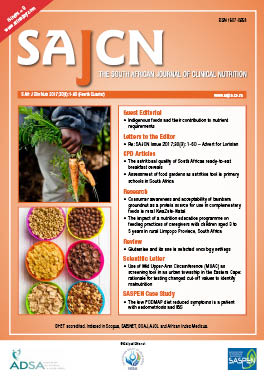 How to Cite
Jankovich, E., & Watkins, S. (2017). The low FODMAP diet reduced symptoms in a patient with endometriosis and IBS. South African Journal of Clinical Nutrition, 30(4), 32-36. Retrieved from http://sajcn.co.za/index.php/SAJCN/article/view/1301
Section
SASPEN Case Study
Material submitted for publication in the South African Journal of Clinical Nutrition (SAJCN) is accepted provided it has not been published elsewhere. Copyright forms will be sent with acknowledgement of receipt and the SAJCN reserves copyright of the material published.
The SAJCN does not hold itself responsible for statements made by the authors.