Studies since 2005 on South African primary schoolchildren suggest lower anaemia prevalence in some regions
Christine Taljaard

North West University

Namukolo M Covic

North West University

Averalda van Graan

North West University

Herculina S Kruger

North West University

Johann C Jerling

North West University
Keywords:
iron status, anaemia, independent studies
Abstract
The objective of this study was to report on the iron status of South African primary schoolchildren, as reported in independent studies conducted since the last National Food Consumption Survey-Fortification Baseline (NFCS-FB) in 2005. Internet searches were conducted for cross-sectional and randomised controlled trials that reported on the iron status of South African primary schoolchildren, published after the NFCS-FB of 2005. Search engines that were used included Science Direct, Sabinet, PubMed, EBSCOhost (Academic Search Premier, Health Source and Medline) and Web of Knowledge. The search terms in different combinations were "South Africa", "children", "iron", "anaemia", "iron deficiency", "micronutrient", "malnutrition" and "nutritional status". Secondary analysis was carried out on the NFCS-FB data on children aged 7-9 years at provincial level. Outcome measures used were haemoglobin (Hb) and serum ferritin. The search identified four independent studies that were conducted in four different provinces: KwaZulu-Natal, North West, Western Cape and Northern Cape. All four were conducted in low socio-economic areas and selected children with poor iron status for intervention purposes. The studies reported an anaemia prevalence lower than that of the NFCS-FB: 11.5% vs. 14.4%, KwaZulu-Natal; 6.9% vs. 27%, North West; 17.2% vs. 18.8%, Western Cape; and 5.4% vs. 22.2%, Northern Cape. Serum ferritin was more difficult to interpret because different cut-off points were used. Anaemia prevalence, based on Hb concentration in primary schoolchildren, might have improved in some regions since the NFCS-FB. Regular national surveys are recommended to ensure that the iron status of South African primary schoolchildren is kept under surveillance.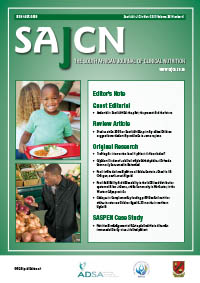 How to Cite
Taljaard, C., Covic, N., van Graan, A., Kruger, H., & Jerling, J. (2013). Studies since 2005 on South African primary schoolchildren suggest lower anaemia prevalence in some regions. South African Journal of Clinical Nutrition, 26(4), 168-175. Retrieved from http://sajcn.co.za/index.php/SAJCN/article/view/703
Material submitted for publication in the South African Journal of Clinical Nutrition (SAJCN) is accepted provided it has not been published elsewhere. Copyright forms will be sent with acknowledgement of receipt and the SAJCN reserves copyright of the material published.
The SAJCN does not hold itself responsible for statements made by the authors.