Treating an intervention level 1 patient: futile or brave?
Nasheetah Solomons

University of the Western Cape

Nico Nortje

University of the Free State
Keywords:
futile treatment, Cerebral palsy, Gastro-oesophageal reflux disease, palliative care, Nasogastric feeding, Nasojejunal feeding
Abstract
An ethical dilemma describes conflicting opinions by different members of the care team. This article focuses on AJ, a five-year-old child with cerebral palsy, who was born deaf and blind as a result of having contracted rubella in utero. The case is examined against Sokol's four-quadrant analysis of ethical issues, giving a framework designed to facilitate the systematic identification and analysis of clinical ethical problems. The issue is whether the medical team should have palliated AJ, or continued with invasive therapy and feeding. The conclusion is that paediatric palliative care is often difficult, but that the dietitian has a duty to contribute his or her knowledge to benefit the patient.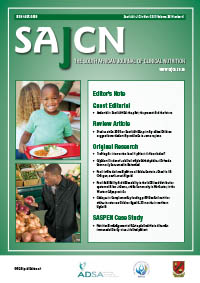 How to Cite
Solomons, N., & Nortje, N. (2013). Treating an intervention level 1 patient: futile or brave?. South African Journal of Clinical Nutrition, 26(4), 176-180. Retrieved from http://sajcn.co.za/index.php/SAJCN/article/view/732
Section
Original Research
Material submitted for publication in the South African Journal of Clinical Nutrition (SAJCN) is accepted provided it has not been published elsewhere. Copyright forms will be sent with acknowledgement of receipt and the SAJCN reserves copyright of the material published.
The SAJCN does not hold itself responsible for statements made by the authors.