The acceptability and intake of lipid-based pastes as a food supplement in a South African context
Liana Steenkamp

Nelson Mandela Metropolitan University

Ronette Lategan

University of the Free State
Abstract
This descriptive study included 103 children aged 12-60 months, 39 older children and 291 adults, and was performed to assess the sensory acceptability of a lipid-based food supplement. Lipid-based pastes were found to be highly acceptable, although concern exists regarding the recommended portion sizes, especially for young children with poor appetite.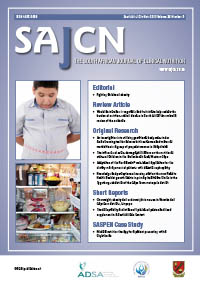 How to Cite
Steenkamp, L., & Lategan, R. (2013). The acceptability and intake of lipid-based pastes as a food supplement in a South African context. South African Journal of Clinical Nutrition, 26(3), 150-151. Retrieved from http://sajcn.co.za/index.php/SAJCN/article/view/785
Section
Short Reports or Scientific Letters
Material submitted for publication in the South African Journal of Clinical Nutrition (SAJCN) is accepted provided it has not been published elsewhere. Copyright forms will be sent with acknowledgement of receipt and the SAJCN reserves copyright of the material published.
The SAJCN does not hold itself responsible for statements made by the authors.