Nutritional management of acute pancreatitis in a human immunodeficiency virus-infected patient
Natascha Olivier

Witbank Hospital
Keywords:
nutritional management, acute pancreatitis, HIV-infected patient
Abstract
A 37-year-old male patient was referred from a local clinic with a one-day history of severe abdominal pain and difficulty breathing. In casualty, the patient reported pain in the right and left upper quadrant and the epigastrium, radiating to the back, accompanied by a retrosternal burning sensation. No nausea or vomiting was reported, but he had been constipated for the past three days. He was also known to have human immunodeficiency virus (HIV), and had been on highly active antiretroviral treatment (HAART) since 2008. On examination, the abdomen was distended, rigid and tender.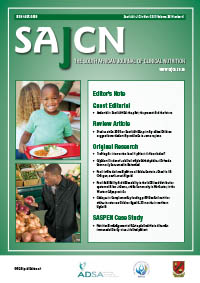 How to Cite
Olivier, N. (2013). Nutritional management of acute pancreatitis in a human immunodeficiency virus-infected patient. South African Journal of Clinical Nutrition, 26(4), 212-215. Retrieved from http://sajcn.co.za/index.php/SAJCN/article/view/810
Section
SASPEN Case Study
Material submitted for publication in the South African Journal of Clinical Nutrition (SAJCN) is accepted provided it has not been published elsewhere. Copyright forms will be sent with acknowledgement of receipt and the SAJCN reserves copyright of the material published.
The SAJCN does not hold itself responsible for statements made by the authors.