Editor's Note
Demetre Labadarios

Human Sciences Research Council (HSRC)
Abstract
An academic scholarly journal cannot exist or excel these days in a printed-only format, based on the belief that everyone who has physically received the journal by post will cite articles from that edition for the duration of his or her academic career. The Internet has forever changed access to academic publications with various access and publishing models. It has also irrevocably altered the way in which we measure the importance of research and journals. In the past, librarians had to rely on basic "shelf statistics", by literally monitoring how many times journals had to be placed back on the shelves to obtain an indication of journal-level usage. This information played a critical role in determining which journals would be on that institution's subscription list. However, in the 1970s, the journal impact factor (JIF) was created by Thomson Reuters as a more accurate tool with which to assist librarians in the purchase of journals. Fundamentally, this index was never designed to measure the quality of scientific research. Despite its many deficiencies, this index is still widely used, at times obsessively, and is "abused" by authors and institutions to validate research output and importance.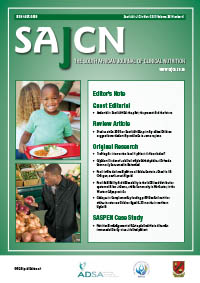 How to Cite
Labadarios, D. (1). Editor's Note. South African Journal of Clinical Nutrition, 26(4), 164. Retrieved from http://sajcn.co.za/index.php/SAJCN/article/view/841
Material submitted for publication in the South African Journal of Clinical Nutrition (SAJCN) is accepted provided it has not been published elsewhere. Copyright forms will be sent with acknowledgement of receipt and the SAJCN reserves copyright of the material published.
The SAJCN does not hold itself responsible for statements made by the authors.